Polyurethane roller belts are produced in high volume at Plan Tech and have been perfected with the use of custom-built CNC grinding lathes and index cutting machines. Plan Tech will cast a polyurethane tube to produce roller belts of all different shapes and sizes. After the tube is post-cured we will grind and profile the OD to any desired shape before precision cutting the polyurethane roller belts to length.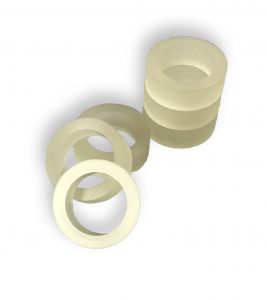 Polyurethane roller belts are used in many different applications and are most commonly found in assembly factories to label or drive product down to the next process. Polyurethane is easily molded and machined to create any size or durometer polyurethane roller belts with rapid turn around. Most roller belts do not require any tooling to get started can be produced in a few weeks. Any hardness or color is available at Plan Tech with rapid turn around.
Plan Tech can also reproduce OEM roller belts from a sample part for often times less than OEM belts. Our polyurethane material will meet or beat OEM physical properties with the ability to change the profile or material for unique applications. Custom cores may also be added for high abuse applications. Plan Tech will mold directly to each core for a bond strength greater than the tear strength of the material.
Manufacturing polyurethane roller belts that effectively incorporate a metallic or non-metallic component requires a superior method for achieving a bond between the urethane and the substrate. Here at Plan Tech, we have developed preparation methods to consistently apply specially formulated urethane adhesives. Our proprietary equipment for cleaning, preparation, automated adhesive spray application and automated drying ensures a consistently high-strength bond between the urethane and the substrate. Over the past three decades, we have adhered cast urethane to millions of parts with an outstanding record of part performance in demanding applications. Some of the materials that we bond to include steel and aluminum.
Please Contact us for further details or to answer your questions about polyurethane roller belts.