Polyurethane rollers with bearings help in lessening the noise and vibration produced by high speed moving bearings that move on conveyor lines and they are commonly used in shipping centers. One of the features of polyurethane rollers with bearings that make them ideal for applications in shipping centers is their impressive ability to resist wear and tear on bearings.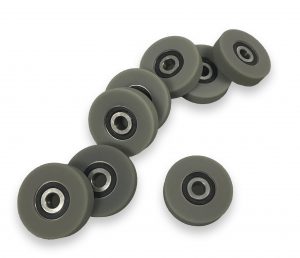 Plan Tech's polyurethane rollers with bearings are made with a machined radius which allows them to function in diverse ways, and they are also capable of meeting the requirements of any application because we can have them manufactured in different sizes. Our ability to manufacture top quality products is due to our custom cast polyurethane facility that is that is of premium quality which also ensures all of our deliveries are done in record timing. It is, therefore, safe to say that manufacturing polyurethane rollers with bearings that depict classiness and exhibit tight tolerance are just a few of our capabilities or features that rank us among the elites in the industry. In addition to being able to deliver top-notch quality products in record timing, our unique in-house capabilities also ensure the cost of our services is very cost competitive. And can expect long service life and high-performance ability from all of our products especially our polyurethane rollers with bearings.
Plan Tech also has an outstanding team of dedicated employees with exceptional talents designing and manufacturing polyurethane rollers with bearings. We also are very proud of the "company we keep." Our customers include many Fortune 500 companies, most of whom have been customers for 20+ years. Their drive to become industry leaders has helped us do the same. Whether you are a start up company or global leader, we can add value to your products with our strong engineering support, polyurethane polymer support and constant focus on meeting all delivery requirements. Our rapid prototyping capabilities have also received particularly positive feedback – we frequently go from "Print to Part" in 10-15 business days -everything we manufacture is MADE IN THE USA!
Please Contact us for further details regarding Polyurethane Rollers With Bearings!