Polyurethane rollers with bushings manufactured by Plan Tech are durable, offer high impact resistance, reduce noise, flexible, elastic and are resistant to oil, ozone, low temperatures, radiation, and corrosion. Polyurethane rollers with bushings manufactured by Plan Tech are custom molded to your specification. Our custom made polyurethane rollers with bushings can be applied as conveyor rollers, idler rollers, feed rollers, and driver rollers.
Characteristics of polyurethane rollers with bushings produced by Plan Tech include:
Over-length up to 3" (75mm)
Outer diameter up to 3" (75mm)
Hardness 40A-75D
Temperature between 180˚F up to 250˚F
Bearing Seals
FDA approved materials
Low/high resilience
Dual durometer
Head resistance
Plan tech also manufactures other types of urethane product such as: the slip-on urethane rollers which are available in any hardness or color, the urethane sleeved rollers which are cast directly to steel cores or for slip of fit applications and are highly tight tolerance. We also offer straight urethane rollers, which can be supplied with new shaft or reconditioned to any hardness.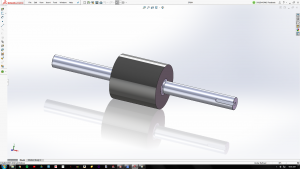 We also custom make our polyurethane rollers to meet your business and company expectations. Please contact us today for information regarding the polyurethane rollers with bushings. Plan Tech a leader in cast urethane manufacturing, process's urethane additives from the world's leading chemical companies. Whether its enhanced lubricity for high abrasion resistance applications or for anti-static wheels for shoppers who don't want to be zapped touching a metal cart. Having more than 30 years experience in the polyurethane industry provides Plan Tech the specific knowledge of incorporating polyurethane additives:
Anti-Static Urethane Additives:  Lubrizol's Lanco Stat LI 100® additives dissipate static electricity in urethane wheels and custom parts. Since 1928 Lubrizol has engineered products worldwide and with rapid response and excellent customer service. Lubrizol has built a reputation in high-performance additives such as Lanco Stat LI 100® for industries worldwide.
Are you interested in Polyurethane Rollers with Bushings? Please Contact us so we can help solve your requirements!