Polyurethane rubber bushings manufactured by Plan Tech are designed with the following features in mind:
Performance
Ride Quality
Durability
Squeaking
Servicing
Installation
Our polyurethane bushings possess excellent dampening, vibration and noise reduction ability. Like many other urethane parts, polyurethane rubber bushings require a high level of exactness, we are aware of that, and that's why we apply speed and precision in manufacturing our polyurethane rubber bushings.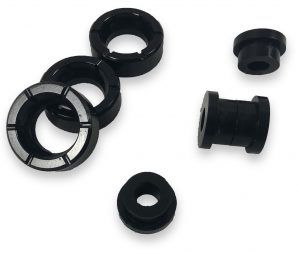 Our application of speed and precision makes it possible for us to meet turnaround time but not at the expense of quality. We have an in-house machine that is fully equipped with state of the art facilities which allow us to produce rubber bushings that rank among the best the industry has to offer. In addition to our machine shop, we also boast a team of engineers who have exceptional expertise in manufacturing only the very best urethane products. It is, therefore, no surprise that our rubber bushings have superior physical properties than those produced by most other companies. We are capable of overcasting our polyurethane rubber bushings and then grinding them down to the perfect sizing to enhance their tolerance level for more demanding applications.
No matter the specification or what the requirements of your applications are, you can count on us to transform your idea or sketch into a custom urethane component. Whether you are a start-up company or global leader, we can add value to your products with our strong engineering support, urethane polymer experience and constant focus on meeting all delivery requirements. Our rapid prototyping capabilities have also received particularly positive feedback – we frequently go from "Print to Part" in 10-15 business days! Everything we manufacture is MADE IN THE USA and our production capabilities include:
In-house custom mold manufacture
Waterjet cut urethane parts
Automated adhesive application for high strength urethane bonding to metal and non-metallic substrates
Open cast, rotational, compression and liquid injection molding
High speed automated and manual finishing equipment
Post-secondary assembly
World class metal preparation
On-site testing
Full in-house machine shop with multiple CNC mills, lathes, grinders, welding and sheet metal fabrication
Are you interested in Polyurethane Rubber Bushings? Please Contact us so we can help solve your requirements and work with you on your specific application!