Polyurethane rubber gaskets are custom cast in high volume using compression molding capabilities at Plan Tech available in a variety of hardness levels and colors. Almost all profiles and shapes for any current or prototype design can be produced using compression molding with little to no secondaries saving thousands vs machined polyurethane rubber gaskets. Polyurethane rubber gaskets are widely used in the engineering, industrial and automotive industries.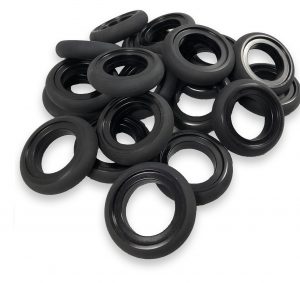 They can be used to inside motors, gearboxes and even blowers as they are quite elastic and have a very high dampening effect. This is why flexible polyurethane gaskets are used in automotive industry as they can easily reduce the noise created by moving parts by seamlessly absorbing energy. Also, polyurethane as a material can withstand oil and many other types of chemicals. So even if there is any spillage, the flexible polyurethane rubber gaskets will continue to work. Manufactured at our fully equipped manufacturing facility in the USA our polyurethane rubber gaskets are about the best you will find in the industry. We utilize only first-rate polyurethane materials from globally renowned chemical producers for the manufacture of our custom polyurethane gaskets. We cast the urethane into a mold to produce a gasket and then we machine it using our world-class urethane facility. For over 30 years the custom polyurethane gaskets we have been manufacturing among other urethane parts are of premium quality. We have been able to maintain consistency in quality as well as meet the demands of our numerous customers because we have always applied speed and precision in our manufacturing process. Polyurethane Rubber Gaskets are commonly used in applications which experience high temperatures. Polyurethane is resistant to cuts, intense heat, and high pressure. A number of small items are made from polyurethane due to its various advantages. Urethane is also quite durable, thus making it an industrial favorite.
Please Contact us for further details or to answer your Polyurethane Rubber Gaskets design questions!