Polyurethane safety seals are known to provide strong bonding and tight seals in a good number of applications. As an employer, it is important to maintain a safe workplace with the best polyurethane safety seal on the market. Yes, accidents and spills happen, but a hazardous chemical spill can be easily prevented when you're prepared with a polyurethane safety seal you can trust.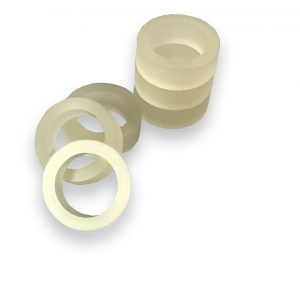 At Plan Tech, we manufacture polyurethane safety seal in our in-house machine shop that is fully equipped with state of the art facilities by our team of engineers. The polyurethane safety seal we manufacture help in reducing downtime and hazardous chemical spill in the workplace.
To ensure their premium grade quality, we only utilize first-rate polyurethane material for the production and for over 30 years, we are renowned for producing the best polyurethane safety seal. Our application of speed and precision allows us to maintain consistency in quality and manufacture polyurethane safety seals in high volume.
Our polyurethane safety seals also allow you to save on material costs with their remarkable ability to resist wear and withstand harsh environmental conditions. They offer tight resist against abrasion, chemical as well as corrosion. We have them available in different colors, durometers and sizes. Urethane is found inside every vehicle and machinery used in material handling applications. Some polyurethane can stretch twice their size and return to original shape while others provide vibration dampening and extreme resistance to abrasion. Since 1954 Polyurethane compounds have been continually modified and allow processors to custom formulate material to fit many applications. There are many advantages to polyurethane resins. They are known for their chemical, oil, and grease resistance, and are typically excellent at resisting abrasion and, as such, are not easily torn. This can explain why they are often used to produce synthetic rubbers. Here is a world-renowned polyurethane supplier:
Covestro AG: Covestro is a global leader in cast polyurethane solutions. We make the world a brighter place through innovation that benefits society. From material systems to machine technologies to proven cast polyurethane elastomers, Covestro has the expertise to support our customers with high-quality products, reliable service and innovative solutions.
Are you interested in Polyurethane Safety Seals? Please Contact us so we can help solve your requirements and work with you on your specific application!