Polyurethane screw shoes are custom designed at Plan Tech for any type of industrial application. Cast from high-performance urethane from world chemical leaders Plan Tech is able to open cast any profile polyurethane screw shoe for the most demanding applications. Often times we reverse engineer similar materials that have failed due to low physical properties or not being able to get a custom profile or hardness required for unique applications.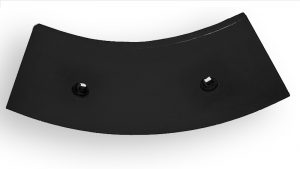 High volume polyurethane screw shoes are molded at Plan Tech to be able to produce thousands of polyurethane screw shoes each month. Plan Tech also has water jet cutting services for screw shoes that would not easily be molded or if tight tolerances are needed. A variety of additives may be incorporated to increase the physical properties for more challenging applications like processing rocks. Our "Armorglide" material will add lubricity to each screw shoe and increase tear resistance. This is ideal for a dirty environment as this will help keep the urethane from building up debris. FDA polyurethane screw shoes are also available in all hardness suited to be FDA dry food complaint. New or old applications Plan Tech is ready to produce polyurethane screw shoes for any machine or applications with a rapid turn around on new orders.
Waterjet cut urethane parts are just one of the many cast urethane services that Plan Tech provides. We utilize a "state of the art" Flow Water jet 4′ x 8′ Integrated Flying Bridge waterjet cutting machine. The dynamic head virtually eliminates the taper normally associated with WaterJet cut urethane parts while improving cutting speeds, part accuracy and tolerances in cutting flat stock materials.
Our capabilities include:
Taper elimination by Active Tolerance Control
Versatility – cut with water only or abrasive
Secondary finishing elimination
Part tolerance and geometry improvement
True part stacking ability with consistent tolerance layer to layer
Vacuum assist technology for carbon fiber and other laminates
Please Contact us for further details about polyurethane screw shoes!