Polyurethane seals are made from our best urethane material due to the extreme conditions in a wide variety of applications that we expect our seals to encounter. Plan Tech's cast polyurethane seals will remain flexible in extreme weather conditions and are rated up to 180F working temperature in a variety of different applications.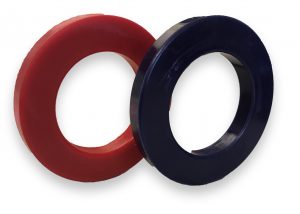 Polyurethane seals are ideal for custom applications in high or low volume, one-off custom seals are no problem for us. Start up cost is also drastically reduced due to the ease of open casting urethane parts. Cast polyurethane seals are a better choice than rubber seals not only for lower start-up tooling cost but urethane has much better abrasion resistance and cut tear resistance as well as being molded any color. Plan Tech also has specialized bonding procedures for inserts of all sizes to be molded into the cast polyurethane seals. By casting directly onto the inserts yields a bond strength that is greater than the tear resistance of the urethane material for the ultimate defense against delamination. From a simple sketch or an existing part Plan Tech and reproduce just about any size cast polyurethane seals with rapid prototyping available. Any hardness is also available for special applications, we have found most seals work best in the 60A to 80A hardness with 70A being most common.
Waterjet cut urethane parts are just one of the many cast urethane services that Plan Tech provides. We utilize a "state of the art" Flow WaterJet 4′ x 8′ Integrated Flying Bridge waterjet cutting machine. The dynamic head virtually eliminates the taper normally associated with waterjet cut urethane parts while improving cutting speeds, part accuracy and tolerances in cutting flat stock materials. Our capabilities include:
Taper elimination by Active Tolerance Control
Versatility – cut with water only or abrasive
Secondary finishing elimination
Part tolerance and geometry improvement
True part stacking ability with consistent tolerance layer to layer
Vacuum assist technology for carbon fiber and other laminates
Please Contact us for further details about custom cast polyurethane seals!