Polyurethane shaft seals are a popular choice due to urethanes great ability to be molded into any profile while delivering great chemical resistance and sealing capability. Polyurethane shaft seals can be molded as big as 5 inches with tight tolerances for maximum sealing properties.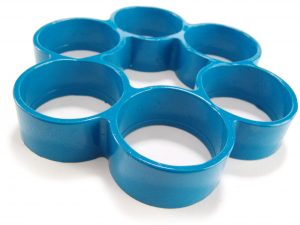 Plan Tech's cast polyurethane shaft seals will remain flexible in extreme weather conditions and are rated up to a 180F working temperature in a variety of different applications. Our most popular shaft seal currently wipes the water off a cable before packaging. This simple OD ID configuration is used to clean thousands of miles of wire before being installed in towns and cities near you. Originally our customer was using a rubber seal and they were having to replace the OEM shaft seal several times a day costing thousands in downtime. Plan Tech's high-quality polyurethane shaft seals lasts over 7 times longer than the original. We have heard our customers say over and over again that our urethane products truly pay for themselves.  With rapid prototyping available Plan Tech can frequently make thousands of polyurethane shaft seals in 4 weeks or less with a variety of different material and additives available. FDA applications are also no problem for Plan Tech.
Plan Tech also has an outstanding team of dedicated employees with exceptional talents designing and manufacturing polyurethane shaft seals. We also are very proud of the "company we keep." Our customers include many Fortune 500 companies, most of whom have been customers for 20+ years. Their drive to become industry leaders has helped us do the same. Whether you are a start-up company or global leader, we can add value to your products with our strong engineering support, urethane polymer experience and constant focus on meeting all delivery requirements. Our rapid prototyping capabilities have also received particularly positive feedback – we frequently go from "Print to Part" in 10-15 business days! Everything we manufacture is MADE IN THE USA.
Please Contact us for further details regarding polyurethane shaft seals.