Polyurethane Straightener Bushings are one of the numerous world-class cast polyurethane products manufactured at Plan Tech. We have been in the business of producing thousands upon thousands of high-quality Polyurethane Straightener Bushings over the past three decades.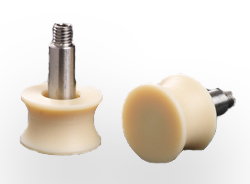 Like every other urethane product manufactured in our world-class polyurethane facility and our in-house machine shop, we only settle for the very best of raw materials produced by renowned chemical manufacturers who are industry leaders. Our Polyurethane Straightener Bushings ranks among the best in the sector. With our Polyurethane Straightener Bushings, you are assured of remarkable resistance against abrasion, temperature and chemicals.
Plan Tech's polyurethane straightener bushings are also capable of functioning at their optimal level even in areas with unfavorable conditions. And the best part is that our Straightener Bushings are available with fast turn around lead times and at affordable prices. It doesn't matter what your requirements are or what the volume of your demand is, our team of experts who are the best at what they do will leave no stone unturned to make sure you get maximum satisfaction with our delivery. Our engineers always apply speed and precision during the manufacturing phase of all our products which allow us to consistently deliver finished products that are of the highest quality and in record timing. When it comes to creating custom polyurethane parts, there's no material – be it an elastomer, plastic or metal – that stands up to abrasion like urethane does. In fact, in some reports, urethane is shown to be ten times more resistant than these materials. If you're looking for custom urethane parts, there is no better option than using polyurethane.
While abrasion is often just seen as abrasion, there are specific movements that cause those fractures, nicks and bumps. Was it due to a fluke bump in the process? Something sliding on the custom part? Or something of high velocity that hit the part's surface? While urethane is well suited to prevent against nearly all types of abrasion, it is best suited for the following:
       Sliding Abrasion
       Impingement Abrasion
These specific types of abrasions can really diminish the effects of your custom parts. Fortunately going with custom urethane parts is a viable, cost effective option that is incredibly resistant to abrasion.
Are you interested in cast Polyurethane Straightener Bushings? Please Contact us so we can help solve your requirements and work with you on your specific application!