Polyurethane transmission mounts are by far a better alternative to rubber factory OEM counterparts that produce damaging vibration as a result of their poor wear resistance ability. The polyurethane transmission mounts manufactured in our world-class machine shop are produced by our team of first-class engineers who make use of the most innovative urethane facility in the United States. Like all of our other custom manufactured cast urethane products, we always utilize speed and precision for the production of our polyurethane transmission mounts which enable to meet high volume demand of the product in record timing without compromising quality.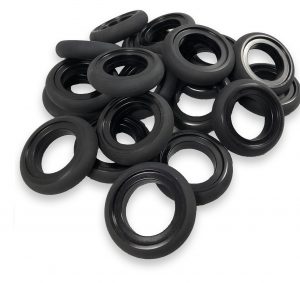 Also, we only make use of urethane materials from world-renowned producers for the manufacture of our polyurethane transmission mounts which guarantees their impressive physical properties. It, therefore, isn't a surprise that our polyurethane transmission mounts are renowned for their remarkable ability to resist wear, abrasion as well as all types of automotive chemicals. Our polyurethane transmission mounts also boast outstanding capability to withstand extreme automotive temperature. The durability of our transmission mounts is second to none in the industry, and they are capable maintaining their high-performance ability even after years of regular usage. No matter what your specification of polyurethane transmission mounts is, you can count on our engineers who are highly skilled in producing top-notch urethane parts to meet your demand with perfection.
Our machine shop includes CNC Lathes, Mills and Grinders for machining cast urethane parts. We also have manual mills as well as a sheet metal and welding area. In addition, we have a Flow Water jet with 48×96 inch sheet capabilities and can cut a list of materials like Polyurethane, Steel, Stainless Steel, Aluminum, Carbon fiber, and most plastics. We create complex molds for our in-house use as well as many of the components that are molded into customer products. Molds are machined from aluminum or tool steel depending upon tool life requirements. The inserts and cores that we manufacture are made from a wide variety of metals and plastics including UHMW PE, ABS, aluminum and steel.
Please Contact us for further details regarding machining cast Polyurethane Transmission Mounts!