Polyurethane treads are designed and manufactured in our fully equipped cast urethane manufacturing facility and in-house machine shop, and this allows us to create custom formulations to conquer specific challenges presented by our clients.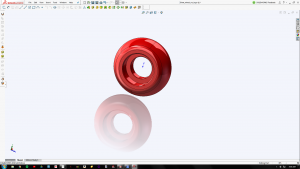 We have the facility and technical ability to manufacture polyurethane treads of any size. Our team of engineers are exceptionally talented with technical capabilities that rank them among the industry's best.
We have been in the business of producing high-quality polyurethane products for over three decades, and we only utilize polyurethane materials that are of premium standard for the manufacture of our polyurethane parts, including our polyurethane treads. If what you seek are polyurethane treads that offer impressive wear properties, corrosive resistance long service life, and maximum resistance to abrasion with a quiet, non-marking ride, then our polyurethane treads are what you need.
No matter your specification, our capable in-house engineers will meet your demand with utmost accuracy. This is because we always apply speed and precision while manufacturing all our products, which allow us to deliver high volume urethane parts at a speedy turnaround.
Your goal of becoming a leader in your industry matches ours, which makes us the ideal company to meet all your urethane needs. Therefore, come to us with your sketch, and we will transform your idea into a masterpiece polyurethane tread. Polyurethane is very similar to a rubber or plastic. Unlike nylon or UHMW, urethane can be compounded to produce very soft parts, as low as 20A Durometer, or up to very hard, 75D Durometer. Polyurethane is ideal in high demand applications were normal rubber would fail. The directory of test methods for cast urethane parts that are specified by ASTM are (a specific test method could vary):
Specific Gravity: (ASTM D792) Specific gravity is the ratio of the density of a substance to the density of a reference substance; equivalently, it is the ratio of the mass of a substance to the mass of a reference substance for the same given volume.
Are you interested in Polyurethane Treads? Please Contact us so we can help solve your requirements and work with you on your specific application!