Polyurethane truck bushings from Plan Tech are known for their stellar truck performance. Manufactured and designed from 100 percent pure polyurethane, making our polyurethane truck bushings one of the best on the market. Plan Tech has a team of experienced technicians that incorporate a unique polyurethane formula to produce polyurethane truck bushings that guarantee years of long-lasting performance.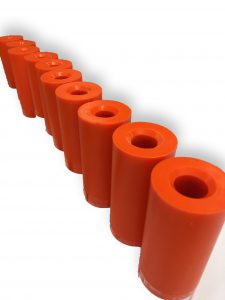 The benefits of polyurethane have made it the best material in this industry, replacing other conventional materials. It is no news that our truck bushings are made from custom polyurethane formula and such offers long-run durability and extreme resistance to harsh environments of heat, water, solvents, chemicals, and abrasion. Known for not just positively improving the performance of trucks, with our urethane truck bushings there is no break-in period, your trucks will be more responsive, and it improves your overall skating experience giving you smooth and positive turns – not floppy or rigid ones.
Plan Tech provides a complete service for the design, development, and manufacture of rubber truck bushings. So, whether you need a completely new design or you want to replace an existing one, our team of engineers can be trusted to deliver truck bushings with high-quality strength and meets your specification. Plan Tech strives to use the latest in design software technology for the designing of complex urethane molds. We utilize SolidWorks to design all of our open face and compression molds per customer specifications. When we have completed our design that has been approved by the customer we machine them using CAMWorks at our in-house machine shop. This creates a faster "concept to production" environment to produce superior parts for our customers. Below is a list of the software used for designing urethane molds:
AutoCAD: AutoCAD is a commercial computer-aided design (CAD) and drafting software application. AutoCAD is used across a wide range of industries, by architects, project managers, engineers, graphic designers, and any other professionals. AutoCAD permits designers to draw 3D objects, such as molds, and machinery, with more Intelligent data associated with them rather than simple objects, such as lines and circles.
Are you interested in cast Polyurethane Truck Bushings? Please Contact us so we can help solve your requirements and work with you on your specific application!