Polyurethane Trunnion Bushings are among the several urethane products that require a great level of exactness while been manufactured. At Plan Tech, we have regularly produced various sizes of polyurethane trunnion bushings over the past three decades with the application of speed and precision which has allowed us to consistently manufacture these rubber trunnion bushings that represent the best in quality.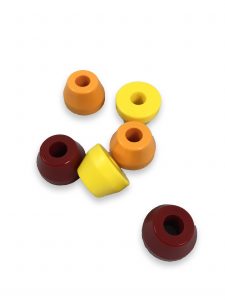 Other reasons behind the fact that our products are world class polyurethane trunnion bushings include our use of first-rate raw materials produced by well-known chemical manufacturers, our state of the art in-house machine shop and our engineering team that boasts unbeatable technical expertise.
Plan Tech's polyurethane trunnion bushings are available in different shapes and sizes. However, you can also trust our team of engineers to mold or cast the urethane to meet the exact requirements of your application. Our rubber trunnion bushings are equipped to provide superior performance. They are not just highly abrasion resistant, but they can also outlast and are easier to replace than any other material on the market.
Their tremendous wear life reduces maintenance and downtime which makes them ideal for a large number of industries. So, if what you have been searching for is the perfect company that can satisfactorily meet your rubber trunnion bushings demands, then we are happy to let you know that you are at the right place. One of the industries benefiting from the high performance of polyurethane parts:
Automotive Industry
Are you aware your car wouldn't be that comfortable if it weren't for polyurethane parts? The parts of this material are utilized extensively in the production of your car. Polyurethane parts are applied in the production of the foam that makes your car seat comfortable to sit on. The parts are also used in producing the interior headliner of your car's roof section, urethane bumpers, urethane seals etc. So it is safe to say that, without urethane parts, your car wouldn't be what it is.
Are you interested in Polyurethane Trunnion Bushings? Please Contact us so we can help solve your requirements and work with you on your specific application!