Polyurethane valve seals can be used in a vast amount of industries, this ranges from Petroleum & natural gas to industries that require even more harsh application and pressure. We manufacture polyurethane valve seals used in harsh slurry environment of abrasive sand and water under very high pressure. The polyurethane formulation used by our team of talented engineers offers exceptional strength under high pressure and impressive long wear under harsh conditions.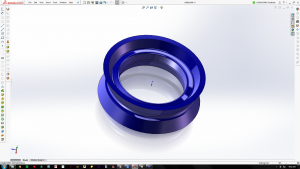 The Plan Tech engineering team also creates custom polyurethane valve seals at low tooling costs. This means that we can design your polyurethane valve seals to exacting standards and with high flexibility. Our client's project always begins with rapidly built prototypes manufactured at low cost for testing and evaluation. We are also happy to manufacture both short and long-term product runs. So if you need polyurethane valve seals designed to restrict the leakage of water, oil or any other chemicals/fluid, then you are at the right place. Our quality inspectors stringently test each polyurethane valve seal on durability, abrasion resistance, and finishing parameters before the final delivery. Also, clients can purchase our polyurethane valve seals from us in different diameters and dimensions at reasonable prices.
Urethane vs Metals and Plastics
Better wear
As far as resisting abrasion and corrosion are concerned, no other elastomer material perform better than polyurethanes. This is one aspect where their performance is more efficient than plastics and most metals.
Cost Efficiency
The production of metal parts can be very expensive, and the reason is that, unlike urethanes that can be casted easily, the casting of metal parts cannot be done without the process of welding and the use of machines.
Less noise
This is one advantage urethanes hold over metals that require no debate. While metals are generally renowned for their remarkable ability to produce noise, polyurethanes, on the other hand, absorb noise thereby preventing it.
Higher load bearing
Not even plastics and metals can resist significant impact like urethanes. Where urethanes can offer an outstanding load-bearing performance, most plastics and metals will succumb to the shock and impact of higher loads and eventually break down.
Please Contact us for further details regarding polyurethane valve seals!