Polyurethane Washers are used in various industrial applications for their strong, durable nature. They are cut and tear resistant which is why they can be used around sharp objects. Polyurethane washers also are not affected by various types of chemicals and oils. It repels oil and thus has a variety of industrial application uses. Polyurethane is a unique material that is wear, impact and abrasion resistant. Its chemical structure is unique and the carbamate links ensure that the overall structure stays intact even with the interference of foreign substances.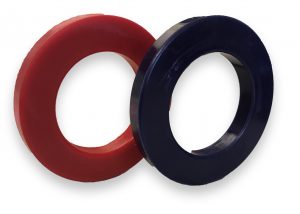 Polyurethane Washers are used in various industries such as the housing industry. Many kitchen and bathroom items consist of these washers. Polyurethane can be molded into any size, so the size of the washers varies from the application requirements. Most taps, faucets, and showers use tiny little washers to keep the item intact. Polyurethane is water resistant, it can withstand the flow of continuous water. Even if the temperature of the water varies, the Polyurethane will not melt or deteriorate. At Plan Tech, we have a state of the art Machine Shop with customized equipment to machine tight tolerance polyurethane washers.
We are one of America's largest producers Polyurethane Washers. Plan Tech's full line of unique high-quality cast polyurethane products are second to none. As a result, our application and design knowledge helps make us solve problems for our customers. Our polyurethane washers are abrasion and tension resistant. So the connection using our washers would be tight. When it comes to creating custom polyurethane parts, there's no material – be it an elastomer, plastic or metal – that stands up to abrasion like urethane does. In fact, in some reports, urethane is shown to be ten times more resistant than these materials. If you're looking for custom urethane parts, there is no better option than using polyurethane.
Please Contact us regarding more information on custom cast polyurethane washers!