Polyurethane wear panels manufactured at Plan Tech comes in a variety of different variations that are more cost-effective than those of other brands, lighter and offer excellent service life.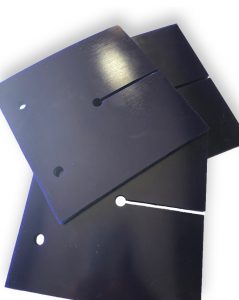 They are produced from first-rate raw materials that are manufactured by renowned chemical producers which allow us to produce finished products that offer exceptional physical properties. So, if what you seek are polyurethane wear panels that can remarkably resist wear, abrasion, and corrosion, etc. or polyurethane wear panels that can function at their optimal capacity even under unfavorable operating conditions, then you've come to the right place.
We boast a team of engineers who rank among the best at what do. Our professionals who have years of experience among them can expertly handle your rubber wear panels' project from design to finished product that will leave you totally satisfied. With the sophisticated machineries available in our state of the art in-house machine shop and our over 30 years' experience of manufacturing high-quality urethane products, you can be assured of getting topnotch quality rubber wear panels that meet your specific screening requirements.
The benefits of our urethane wear panels include exceptional durability, availability in a variety of screen fastening systems, reduced blinding and pegging, etc. At Plan Tech, you are certain of finding the exact polyurethane wear panels of your choice as we have them available in different dimensions that meet the requirements of any application. Plan Tech a leader in cast urethane manufacturing, process's urethane additives from the world's leading chemical companies. Whether its enhanced lubricity for high abrasion resistance applications or for anti-static wheels for shoppers who don't want to be zapped touching a metal cart. Having more than 30 years experience in the polyurethane industry provides Plan Tech the specific knowledge of incorporating polyurethane additives:
Color Matching Urethane Additives: Whether it is color matching, just-in-time shipping, custom packaging, or any of the other services PAT Products provide, our customers get exactly the solution they need. We take great pride in the success of our customers. They are part of the family.
Are you interested in cast Polyurethane Wear Panels? Please Contact us so we can help solve your requirements and work with you on your specific application!