Polyurethane wear plates find applications across various industries that utilize various types of machines. These polyurethane wear plates help in resisting wear in the parts of a machine where material passes and creates abrasion such as the conveyor side walls and inside of the hopper.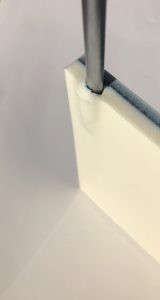 To ensure that our wear plates are of topnotch quality, we only make use of first-rate materials from internationally renowned chemical producers. Our team of technical gurus always apply speed and precision which allow us to maintain consistency in quality as well as meet the high volume demands of our numerous customers. Plan Tech's coated wear plates that are capable of resisting or slowing the rate at which your machine parts will wear are available in different shapes and thickness. You can count on our experts to pay attention to every detail of your sample or idea to ensure that the finished product we deliver can offer all-around wear protection.
No other cast polyurethane manufacturer in the industry can outmatch us when it comes to manufacturing tailor-made rubber wear plates that can fit just about any application from light to medium duty. With outstanding physical properties such as low friction ability and excellent wear resistance, our polyurethane wear plates can withstand wet applications as well as different forms of the unfavorable working conditions. Plan Tech a leader in cast urethane manufacturing, process's urethane additives from the world's leading chemical companies. Whether its enhanced lubricity for high abrasion resistance applications or for anti-static wheels for shoppers who don't want to be zapped touching a metal cart. Having more than 30 years experience in the polyurethane industry provides Plan Tech the specific knowledge of incorporating polyurethane additives:
Anti-Static Urethane Additives:  Lubrizol's Lanco Stat LI 100® additives dissipate static electricity in urethane wheels and custom parts. Since 1928 Lubrizol has engineered products worldwide and with rapid response and excellent customer service. Lubrizol has built a reputation in high-performance additives such as Lanco Stat LI 100® for industries worldwide.
Are you interested in cast Polyurethane Wear Plates? Please Contact us so we can help solve your requirements and work with you on your specific application!