Polyurethane wheels manufacturers produce polyurethane wheels in a variety of configurations. But with our 30 years' experience as polyurethane wheels manufacturers, producing and supplying top quality polyurethane wheels around the world, Plan Tech is your best choice.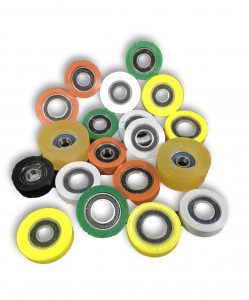 Plan Tech's polyurethane wheels allow for greater chemical, oil, solvent, and corrosion resistance. As polyurethane wheels manufacturers, our team of specialized engineers make sure that our products are durable and can be used in tough, demanding applications. Our polyurethane wheels work excellently in environments with high temperature as well as high-voltage applications. They can also withstand harsh treatment such as abrasion, and contact with flames.
No matter the type of polyurethane wheels you want, we've got you covered. With our in-house fabricating department and state of the art facility, we can keep the manufacturing cost to a minimum giving us the ability to offer a much more cost-effective solution. Our polyurethane wheels are designed for a good number of applications.
Having passed stringent tests and proven outstanding in several applications, our polyurethane wheels provide cost-effective operation of machinery requiring long service in extreme environments. When it comes to industrial wheels, our polyurethane wheels have proven to be the best against chemicals such as acids, salts, solvents, and other hydraulic liquids. Urethane is found inside every vehicle and machinery used in material handling applications. Some polyurethane can stretch twice their size and return to original shape while others provide vibration dampening and extreme resistance to abrasion. Since 1954 Polyurethane compounds have been continually modified and allow processors to custom formulate material to fit many applications.
Polyurethane resin is considered versatile because it can be used to produce a wide variety of industrial parts, from urethane molded bearings to urethane coated rollers. This is possible because the urethane resin can be processed to great extremes, which can customize physical properties such as the durometer and elasticity. In many cases, it's produced in a liquid form and can be poured into aluminum molds also known as cast urethane.
Are you interested in locating various Polyurethane Wheels Manufacturers? Please Contact us so we can help solve your requirements and work with you on your specific application!