Polyurethane wheels with bearings are commonly found in shipping centers. They are products of a TDI based high-quality ether-based urethane and consist of a media blasted bearing that is chemically bonded to ensure long service life. Although polyurethane wheels with bearings are typically supplied in a 95A durometer, our skilled technicians have a special way of chemically bonding the bearing to ensure a bond strength tougher than the material which eliminates the issue of a delaminating wheel.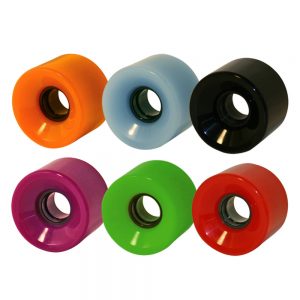 We have polyurethane wheels with bearings (which help in dampening the loud slamming from machines) available for supply having been manufactured from a simple sketch by our world-class technicians. We also have available in our vast product portfolio, custom rims for the wheels in which case supplying one piece to 100k pieces with excellent lead times is no problem for us due to the highly productive level of our team of dedicated employee's. We boast a custom cast urethane facility which enables us to maintain superior capabilities and world-class equipment. And we are renowned in the industry for delivering with maximum speed and precision, industrial cast urethane products and FDA-approved urethane parts that are of the highest quality. No other company in the industry supplies more urethane wheels with bearings to different sectors than our company. Some of the industries we supply polyurethane wheels with bearings to include: shipping, loading docks, go-karts, roller coast wheels, flume rides, bumper cars and race tracks. Feel free to evaluate Plan Tech for your polyurethane wheels with bearings needs.
Plan Tech has an outstanding team of dedicated employees with exceptional talents designing and manufacturing custom molded and cast urethane molded parts. We also are very proud of the "company we keep." Our customers include many Fortune 500 companies, most of whom have been customers for 20+ years. Their drive to become industry leaders has helped us do the same.
Please Contact us for further details regarding polyurethane wheels with bearings!