Polyurethane woodworking drive rollers can be used in several applications to drive various other materials beyond wood without marking or damaging. With the use of our polyurethane woodworking drive rollers at the core of whatsoever applications you are able to get more life out of your machinery and processes. You will also be able to increase your productivity and reduce your downtime by using our polyurethane drive rollers.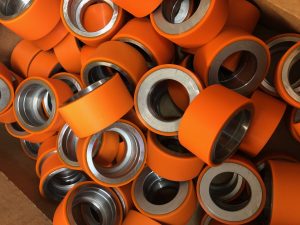 Custom coated woodworking drive rollers are one of our many specialty polyurethane products, and we manufacture them utilizing speed and precision. Also, our ability to produce at such a fast rate makes us one of the largest producers of the product in the industry. We are capable of delivering woodworking rollers in record timing regardless of the volume demanded. At Plan Tech we make use of world standard urethane materials for the production of our rubber woodworking drive rollers. Our team of engineers who are about the best in the industry has the technical expertise to custom make profiles that will meet the demand of any application.
We have state of the art facilities, which in turn makes it possible for us to produce rubber woodworking drive rollers that offer outstanding wear resistance abilities. Our woodworking drive rollers can be depended upon for high-performance capability, and they are capable of functioning at a top-level even after being used for several years. Having more than 30 years experience in the polyurethane industry provides Plan Tech the specific knowledge of incorporating polyurethane additives:
High Durometer Urethane Additives:  Air Products Founded in 1940 provides world-leading food curative that can be used in the manufacture of polyurethane elastomers intended to contact dry food. Air Products has built a reputation for its innovative culture, operational excellence.
UV Protection Urethane Additives: Ferro is a leading global supplier of ultraviolet UV protection technology-based functional coatings and color solutions in urethane products protecting color pigments for urethane industries that are heat stable, lightfast, and chemical and weather resistant.
Are you interested in Polyurethane Woodworking Drive Rollers? Please Contact us so we can help solve your requirements and work with you on your specific application!