Precision cut urethane gaskets are used to prevent leakage between two objects by filling the gap between them. They also act to dampen vibrations when under heavy compression; this is the reason why urethane is used in the production because of its ability to be resilient and able to form a very tight seal.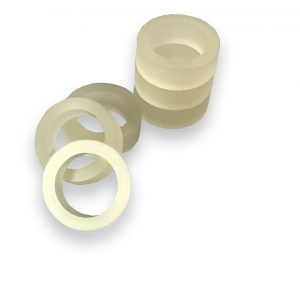 Our team of engineers uses urethane for the production of precision cut urethane gaskets because seal gaskets need to be strong and co -join securely. Precision cut urethane gaskets are able to hold close tolerances of + .005 on material from .020 to .125 and + .010 up to .375. These create stable parts with less torque, preventing movement under heavy vibration or intense pressure. Plan Tech also customizes precision cut urethane gaskets that can be ideal for a specific industry.
There are different specifications to choose when ordering for precision cut urethane gaskets. These specifications include:
Custom colors
No wax on one or both side
Custom durometers(hardness)
Seamed sheets (larger sizes)
Thickness tolerances ( up to + 001", with + 0.005" being standard)
Size (38.5"x 122.5" full sheet), half sheet or quarter sheet
With or without pressure sensitive adhesive (PSA) backing
Plan Tech has over 30 years of specializing in the manufacturing of precision cut urethane gaskets for a wide range of industries and applications. We utilize the tough characteristic nature of urethane which outperforms plastic, rubber, and steel in its capacity to resist harsh environmental factors such as abrasion, heat, oil, solvent, acid and many chemicals. Plan Tech a leader in cast urethane manufacturing, process's urethane additives from the world's leading chemical companies. Whether its enhanced lubricity for high abrasion resistance applications or for anti-static wheels for shoppers who don't want to be zapped touching a metal cart. Having more than 30 years experience in the polyurethane industry provides Plan Tech the specific knowledge of incorporating polyurethane additives into Precision Cut Urethane Gaskets such as:
High Durometer Urethane Additives:  Air Products Founded in 1940 provide world-leading food curative that can be used in the manufacture of polyurethane elastomers intended to contact dry food. Air Products has built a reputation for its innovative culture, operational excellence.
Are you interested in precision cut urethane gaskets? Please Contact us so we can help solve your requirements!