Precision urethane covered rollers are produced at Plan Tech using high-quality prepolymer and curative from world leaders to produce parts of high physical properties vs OEM and aftermarket rollers. Plan Tech for over 30 years has been dedicated to the producing and fabrication of precision urethane covered rollers in all departments of our manufacturing facility.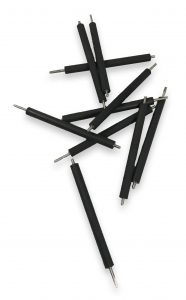 From a simple sketch or an existing part Plan Tech will engineer, mold and the required machine shop work get to provide a quote with a rapid turnaround on finished parts. We have over 100 years of combined urethane machining experience to grind and turn just about any profile into urethane rollers with tight tolerances of +/-.005. Our custom built grinding equipment ensures each roller will be concentric. Fabrication of steel cores is no problem for us as well. Existing rollers may be stripped and reconditioned for a new coating of urethane before being precision ground.
Each steel core will be degreased before media blast and a chemical bonding adhesive is applied to the core. This allows Plan Tech to cast the urethane directly to the metal core to ensure a bond strength greater than the tear strength of the material. Most precision urethane covered rollers are supplied in a 95A hardness, At Plan Tech we can modify our urethane to any hardness for any special application with a variety of additives to enhance the physical properties of the urethanes performance.
Machining precision urethane covered rollers require specialized equipment and training. Here at Plan Tech we utilize 3D CAD Design Software Solidworks and make all of our own molds in-house for speed, accuracy and precision. We control the entire process from design to manufacture. Custom mold making is at the very core of what we do. Our machine shop includes CNC Lathes, Mills and Grinders for machining cast urethane parts. We also have manual mills as well as a sheet metal and welding area. In addition, we have a Flow Water jet with 48×96 inch sheet capabilities and can cut a list of materials like Polyurethane, Steel, Stainless Steel, Aluminum, Carbon fiber, and most plastics.
Please Contact us for further details regarding precision urethane covered rollers!