Pressure Urethane Wheels are manufactured at Plan Tech to meet the requirements of any application. As one of the numerous urethane products that require a high level of accuracy, our team of highly experienced engineers always apply speed and precision during the production of the products.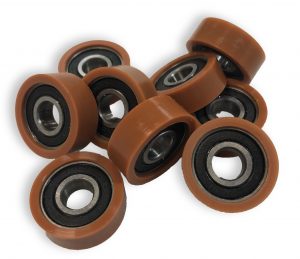 Like every other urethane product that is cast in the fully equipped state of the art in-house machine shop at Plan Tech, we only utilize the very best of raw materials produced by globally recognized chemical manufacturers to ensure that our pressure urethane wheels are of world-class standard.
It, therefore, isn't a surprise that our pressure urethane wheels have regularly been tested and proven to be among the best available on the market today. With outstanding physical properties such as their excellent ability to withstand harsh environmental and weather conditions, our pressure urethane wheels are simply second to none in the United States and the world over in terms of quality.
We have them available in a variety of shape, hardness, and sizes. And our technical gurus are more than capable to cast the urethane into the exact Pressure Wheels you require for your application. So, irrespective of what your ideas, sketches or samples of pressure urethane wheels are, we pride ourselves as the ideal company where your imagination can be transformed into the classiest of urethane products. There are many advantages that urethane holds over metal and plastic:
Elastomeric ability
The elastomeric memory of urethanes is second to none; they have the ability to regain their initial size regardless of the rigidness at which they are extended or stretched to a significant extent. Whereas many plastics and metals can't regain their original size having been extended beyond their breaking point or elastic limit.
Temperature Resistance
Better than metals and plastics, urethanes are capable of maintaining their high-performance ability such as their elasticity, etc., even under such temperature extremity that is below -60°F.
Are you interested in Pressure Urethane Wheels? Please Contact us so we can help solve your requirements and work with you on your specific application!