Profile grinding polyurethane happens to be one the custom urethane services we specialize in. The profile grinding polyurethanes we offer are custom cast to meet any desired standard for your specific application. Having been building and updating our grinding abilities over the years, our team of engineers is now highly skilled in reprocessing grinding polyurethanes that are old and worn out. It, therefore, isn't a surprise that we frequently receive worn out polyurethane products from our industrial customers and the ability of our engineers to efficiently reprocess the used products ensures our customers are saved from spending thousands of dollars on new custom oem parts.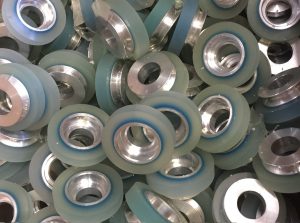 We are capable of reproducing profile grinding polyurethanes to any size or profile. Also, using the best prepolymer which we purchase from globally recognized chemical and polyurethane manufacturers makes it possible for us to produce polyurethane profiles with extremely tight tolerances and remarkable ability to chemically resist most solvents. The task of profile grinding polyurethane is not an easy one to accomplish, but our customized machinery ensures we are capable of executing the job with a high level of precision. We are proud of our dedicated workforce who are immensely talented in designing and manufacturing customized profile grinding polyurethane products. So, no matter your industry, you can be assured that we are capable of producing polyurethane profile that will meet the requirements of your application.
Our machine shop includes CNC Lathes, Mills and Grinders for machining cast urethane parts. We also have manual mills as well as a sheet metal and welding area. In addition, we have a Flow Water jet with 48×96 inch sheet capabilities and can cut a list of materials like Polyurethane, Steel, Stainless Steel, Aluminum, Carbon fiber, and most plastics.
Please Contact us for further details regarding profile grinding polyurethane!