Expanded Metal Backed Urethane – Metal Backed Urethane
Expanded metal backed urethane is used for many applications due to the low cost per sheet and how easily it is available. Commonly know as an impacted pad expanded metal backed urethane will act much the same with a core for added integrity and strength.  It is also a great choice when the part needs to be stiff against bending yet still hold all the properties of urethane on the surface.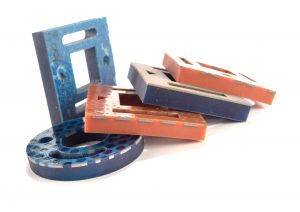 Expanded metal backed urethane is also a great choice when trying to add extra strength to a bonded surface like a metal plate that will be covered in urethane as well.  For instance, if the part in question is a metal plate backed with urethane and the application demands a high strength bond we will weld the expanded metal to the plate then cover everything with urethane creating a high strength mechanical bond with the added strength from the chemical bonding agent. The expanded metal will act like a chain around the urethane that is welded to the plate. This bond between the chemical properties and the mechanical ability of the expanded metal will yield a bond unmatched to traditional bond practices.
We have a full in-house machine shop equipped with a Flow waterjet capable of cutting expanded metal backed urethane into any shape needed.  Custom shapes of expanded metal backed urethane are no problem for us! Tight tolerances or prototype parts are also just one of the many things we can offer. On average urethane will out perform rubber 3 to 1 making urethane an ideal choice. Often times we will add additives that will increase abrasion resistance and add lubricity to keep products from sticking. An Anti-static additive is also common to reduce any static build up from sliding fraction. Our customers include many Fortune 500 companies, most of whom have been customers for over 20 years. Their drive to become industry leaders has helped us do the same.
Please Contact us for further details regarding Expanded Metal Backed Urethane!