FDA Approved Urethane Parts – Custom FDA Urethane Parts!
FDA Approved Urethane Parts ? You've come to the right source!
FDA approved urethane parts include high tensile strength, outstanding abrasion resistance and excellent load-bearing performance. Plan Tech produces cast FDA approved urethane parts that are metal detectable for FDA food processors making polyurethane ideal in production lines. With our
state of the art urethane manufacturing facility, we are able to incorporate an FDA approved metal detectable additive in polyurethane. This makes for an effective way to prevent product contamination in the food industry. Plan Tech is a leading provider of FDA approved urethane components for food manufacturers across the United States some of which include: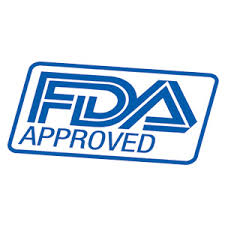 FDA Approved Urethane Components
FDA Approved Urethane Sprockets: FDA approved sprockets have become an essential part of the food industry and food processing plants. Commercial farming equipment that handles dry or fatty foods use FDA approved urethane sprockets.
FDA Approved Urethane Sheets: FDA approved sheets thicknesses range from 1/16″ to 6″ with widths to 48″ and lengths to 60″ are also available with a tolerance of +/-.060. For the last 30 years, Plan Tech has been casting custom FDA approved urethane sheets to critical specifications and requirements our customers require.
FDA A
pproved Urethane Pads: FDA approved pads are cast from a high-quality material for the most extreme conditions. Capable of repeated impacts FDA approved urethane pads will absorb the impact, reduce vibrations and return to its original size even after years of abuse.
FDA Approved Urethane Washers: FDA approved urethane washers can be cast in any durometer from gum soft to hard as plastic for many different applications including the food processing industry to isolate food contact or to act as a seal. FDA approved washers will also dampen vibration and shock.
FDA Approved Urethane Gaskets: FDA approved gaskets include high tensile strength, outstanding abrasion resistance and excellent load bearing performance. FDA approved gaskets are non-corrosive, non-marking, chemical resistant and can withstand continued service under some of the harshest conditions.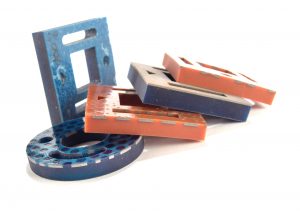 Custom FDA Approved Parts
Improving detectability in FDA Approved Urethane Parts is critical to prevent a major contamination which will save time, effort and money before the finished product. This is a major improvement in both equipment and the ability to detect a problem before it reaches the final product. The FDA approved additives can be used with existing x-ray and metal detectors. As an example, if any of the FDA approved urethane parts ever broke, they could be detected by a metal detector due to our high-speed mixing during the manufacturing process. The ability to blend the product allows us to fine-tune how much of the FDA approved additive is blended into the fda approved parts to ensure the end product will have all the physical properties required for the application.
Some common applications where FDA approved polyurethane is used:
Conveyor Systems
Inspection Tables
Rollers and Wheels
Chutes and Chute Liners
Bumpers and Feet
Urethane Gaskets and Seals
Custom Urethane Molded Parts
Tight Tolerance FDA Approved Parts
Whether you are a start-up company or global leader, we can add value to your products with our strong engineering support, urethane polymer experience and constant focus on meeting all delivery requirements. Our rapid prototyping capabilities have also received particularly positive feedback – we frequently go from "Print to Part" in 10-15 business days. Everything that we manufacture is MADE IN THE USA! A particular strength is the breadth of our in-house capabilities such as compression molding and grinding urethane parts which, when combined with our extensive experience, enables us to deliver tight tolerance custom polyurethane components while maintaining the quality control and cost effectiveness our customers require. The tests are performed according to an established set of standards provided by an accredited testing organization such as the Society for Testing and Materials (ASTM) who define the procedures in detail.
For over 30 years we have focused on using speed and precision to manufacture the highest quality industrial cast polyurethane parts to our customers. Plan Tech also has an outstanding team of dedicated employees with exceptional talents designing and manufacturing polyurethane molded parts. We also are very proud of the "company we keep." Our customers include many Fortune 500 companies, most of whom have been customers for 20+ years. Their drive to become industry leaders has helped us do the same.
FDA Approved Parts
Please Contact us for further details regarding your FDA Approved Molded Parts!