Industrial Urethane Core Recovering – Made In USA
Industrial urethane core recovering are one of the specialty services we provide our customers at Plan Tech. We are able to recover almost any core for any application or industry. Industrial urethane cores are often time's custom parts and are extremely hard to find replacements and are extremely expensive to reproduce. At Plan Tech we are able to reprocess the existing worn out coating with a finished product that often times looks and outperforms the OEM originals.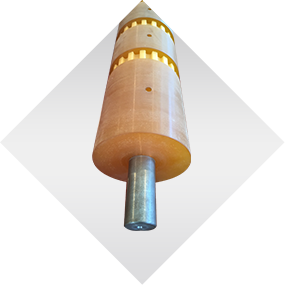 We frequently receive feedback that industrial urethane core recovering is a significant cost savings over purchasing new. In some cases, we can improve the way your machinery handles by altering the durometer or hardness of the urethane to suit your application or material that you are handling. Some customers have noted significant improvement in operations with the rollers that were coated with our urethane. We also have additives to enhance the wear properties of the urethane. We custom tailor the industrial urethane core recovering coating to have more lubricity and lubricate the rolling surface. The wheel will wear resulting in a smoother operation that won't stick to the product being processed. Another popular additive is an anti-static additive designed for the paper industry so the paper doesn't want to cling to the roller.
If we determine that your rollers are completely worn out, no longer true or warped we can machine new ones and recover with urethane to get you up and running again with excellent lead times. Whether you are a start-up company or global leader, we can add value to your products with our strong engineering support, material selection expertise and constant focus on meeting all delivery requirements. Our rapid prototyping capabilities have also received particularly positive feedback. We frequently go from "Print to Part" in 10-15 business days. This capability allows our customers to rapidly develop new products and meet the ever-increasing requirements for speed in the market place.
Please Contact us for further details regarding Industrial Urethane Core Recovering!