Plan Tech Inc, Presents Anderson Development Co, 2017 Polyurethane Supplier Excellence Award
Plan Tech Inc, Presents Anderson Development Co, 2017 Polyurethane Supplier Excellence Award
LOUDON, NH., May 25, 2017 — Plan Tech, Inc. awarded Anderson Development Co the 2017 Polyurethane Supplier Excellence Award. Plan Tech has been supplying high-quality cast urethane parts around the world for the last 30 years with the help from Anderson Development. Anderson is a world leading polyurethane manufacturer and has over 37 years of expertise. Plan Tech has come to rely on their experience when identifying new applications that demand their superior technical support. From the start of a new project, the technical support team will assist our design team with selecting the best polyurethane chemistry based on the desired durometer, tensile strength requirements and compression set criteria needed for the application. The benefits of casting with high-performance polyurethane from Anderson is a material consistency which allows us to produce such high-performance products as urethane gears and sprockets, urethane idler wheels and thousands of other custom molded parts all backed with physical properties unmatched to similar material.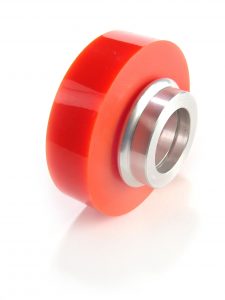 Being partnered together for three decades has made it possible for us to provide replacement and OEM custom cast urethane parts to industrial manufacturing companies. The industries that we manufacture custom urethane parts for require high-performance, strong tensile strength and enhanced abrasion resistance. The industries range from conveyor systems utilizing urethane bearings, amusement park rides with our custom flume wheels and urethane gears and sprockets for the farming industry.
Anderson being a world leader in the polyurethane industry has also helped us when a custom application requires additional abrasion resistance. Anderson has been a leader in the development of specialty urethane prepolymers to significantly enhance the material performance. Plan Tech relies on Anderson's best in class rapid on-time delivery performance. This on-time delivery performance helps our business from carrying high amounts of working capital while keeping brand new polyurethane ready to manufacture custom polyurethane parts for our customers.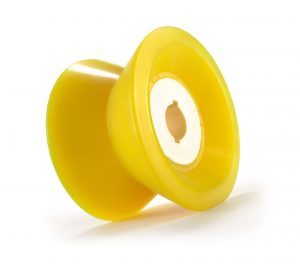 Over the decade's many startup polyurethane companies have tried to duplicate Anderson's material performance but none have come close to the durability of Anderson's signature line of polyurethanes. All of Anderson's varieties of polyurethanes are extremely predictable making custom castings and moldings possible for high volume demands. A few of the regular polyurethanes we process regularly from Anderson include the 2-95 AP and 80 APLF polyurethanes. From bubble gum soft to rock hard urethane for high abuse applications Anderson will deliver the support and quality needed for any business to be successful. "Industrial applications for polyurethane continues to grow worldwide. Anderson Development is recognized as having market leading expertise. This expertise, combined with Plan Tech's three decades of custom cast urethane experience is a key driver in our ability to continue to grow our business." said Melanie Patten, Plan Tech VP Operations.
About Plan Tech
Plan Tech Inc, headquartered in Loudon, NH manufactures custom molded cast polyurethane parts for industry. For over 30 years, we have combined speed and precision to manufacture the highest quality industrial cast polyurethane parts. Plan Tech has an outstanding team of dedicated employees with exceptional talents and industry leading experience. We are very proud of the "company we keep." Our customers include many Fortune 500 companies, most of whom have been customers for 20+ years. Their drive to become industry leaders has helped us do the same.
For more information, go to https://plantech.com/ or call (877) 349-0620
Press Contact: Kevin Healy khealy@plantech.com
SOURCE Plan Tech Inc
About Anderson Development
Anderson Development Company (ADC) is committed to producing high performance materials to enable our customers to make the most competitive products. For nearly 50 years, we have provided high performance, value added materials through research and innovation and by manufacturing to world class safety, quality and environmental standards. ADC offers a wide array of products to fit customer needs. Our Andur ® Urethane prepolymers and curatives, Almatex ® GMA Acrylic Coating Resins, and Almabor® Boron Compounds are just three product lines that empower hundreds of applications worldwide, in markets as diverse as automotive coatings, adhesive, sealant, elastomers, semiconductors, pharmaceuticals, and catalysts.
Contact us:
1-517-263-1000 or email us at sales@anddev.com
Visit our website: www.andersondevelopment.com