Plan Tech, Inc. selected to produce thousands of urethane bushings
LOUDON, NH., January 2, 2019 —Plan Tech, Inc. selected to produce thousands of urethane bushings for the oil and gas industry. These custom molded bushings are required to have a smooth surface finish that is slick with a minus only tolerance for a press fit. These bushings are going into a heated crude oil tank in a very abrasive environment.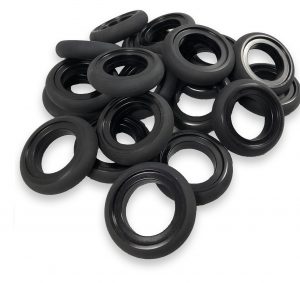 Urethane bushings are available in all durometers and sizes. Most urethane bushings have a low tooling start-up cost that is capable of yielding high runs of production parts. Urethane bushings can handle high loads, high compression with long-term run durability.
A variety of additives can be added to enhance wear properties or abrasion resistance. We can provide any hardness needed for your application or requirements. Custom sizes of polyurethane bushings are no problem for us here at Plan Tech. We offer a variety of color pigment options. Custom cast bushings are used in industrial equipment applications because of polyurethane's superior properties over rubber products. They also can be molded into custom designs to suit your urethane bushings application requirements.

Since plastic and rubber are biodegradable they are more susceptible to deterioration over time. Polyurethane is stronger and can last for the lifetime of your application. Plan Tech VP Engineering, Kevin Healy said, "Polyurethane parts provide longer service life when compared to other materials like rubber, and lower noise abatement properties when compared to metals or even UHWM. For these and many other reasons, product engineers specify polyurethane components!"
About Plan Tech
Plan Tech Inc, headquartered in Loudon, NH manufactures custom molded cast polyurethane parts for industry. For over 30 years, we have combined speed and precision to manufacture the highest quality industrial cast polyurethane parts. Plan Tech has an outstanding team of dedicated employees with exceptional talents and industry-leading expertise. We are very proud of the "company we keep." Our customers include many Fortune 500 companies, most of whom have been customers for 20+ years. Their drive to become industry leaders has helped us do the same.
For more information, go to https://plantech.com/ or call (877) 349-0620
Press Contact: Kevin Healy khealy@plantech.com
SOURCE Plan Tech Inc
Related Links https://plantech.com/