Plan Tech, Inc. selected to produce thousands of urethane cappers
LOUDON, NH., August 12, 2019 — Plan Tech, Inc. selected to produce thousands of urethane cappers for the bottling industry. These urethane cappers are the key piece in the operation to properly seal the bottle. Custom urethane parts can be molded into any profile of bottle or cap, a distinct advantage over OEM standard rubber parts.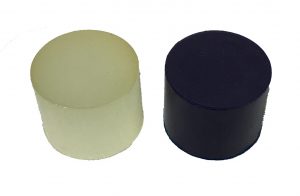 Since these special shapes needed to be molded, inexpensive urethane molds were created for a low start-up cost for high volume production parts of all different shapes and sizes. Originally our customer was using a OEM rubber capper that was not holding up as new cap profiles kept changing. During testing, our customer found Plan Tech's extensive molding experience and high-performance materials required less torque and force to cap the bottle correctly without slipping resulting in less downtime and faster machine operations. While the rubber worked for many years, matching the profile of the cap and using high-performance urethane resin far surpass the quality of previous OEM parts.
Plan Tech's durable long-lasting urethane has since won the business of all the existing rubber cappers due to the incredible ability of high-performance urethane and Plan Tech's capability of profile molding of all sizes with rapid turn around. Plan Tech Production Manager, Cody Henry said, "These cappers were perfectly designed parts and molds, we can mold thousands of these parts per week!"
About Plan Tech
Plan Tech Inc, headquartered in Loudon, NH manufactures custom molded cast polyurethane parts for industry. For over 30 years, we have combined speed and precision to manufacture the highest quality industrial cast polyurethane parts. Plan Tech has an outstanding team of dedicated employees with exceptional talents and industry-leading expertise. We are very proud of the "company we keep." Our customers include many Fortune 500 companies, most of whom have been customers for 20+ years. Their drive to become industry leaders has helped us do the same.
For more information, go to https://plantech.com/ or call (877) 349-0620
Press Contact: Kevin Healy khealy@plantech.com