Plan Tech, Inc. selected to produce thousands of urethane coated drive wheels!
LOUDON, NH., May 28, 2019 — Plan Tech, Inc. selected to produce thousands of urethane coated drive wheels for an assembly manufacturer. These custom urethane coated drive wheels are critical for the operation of the machine when in production.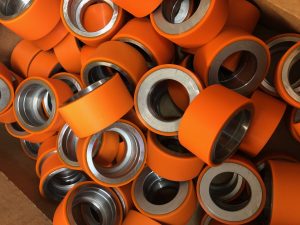 Urethane was selected for this application due to being easily molded into almost any shape with excellent physical properties. Polyurethane is extremely abrasion resistant even under extreme pressures. These custom urethane coated drive wheels process special paneling down an assembly with great accuracy, It is essential the wheels perform as these panels are being fed into a cutting machine, if the wheels fail miscuts, rejects and downtime put there manufacturing process to a standstill, These high-speed drive wheels match the profile of the material it's processing in high speed and volume for many years with little downtime which is why urethane is the best option for industrial molded parts.
Plan Tech designed an open cast mold capable of producing hundreds of thousands of urethane coated drive wheels with tight tolerances for a rapid turn around. Originally our customer was using a rubber drive wheel that was not holding up to the abrasion the wood was causing. During testing, our customer found Plan Tech's extensive molding experience and high-performance materials to outperform the original rubber wheels by 300%. While the rubber worked for many years in a smaller application we have since won the business of all the existing rubber wheels due to the incredible ability of high-performance urethane and Plan Tech's capability of molding custom urethane parts of all sizes with rapid turn around.
We can incorporate additives that will increase abrasion resistance and add lubricity to keep products from sticking for difference applications. An Anti-static additive is also common to reduce any static build up from sliding friction. Plan Tech Production Manager, Cody Henry said, "These new drive wheels hit production in high volume and parts were shipping out in less than 4 weeks, It's great to see high volume applications like this turn around so quickly"
About Plan Tech
Plan Tech Inc, headquartered in Loudon, NH manufactures custom molded cast polyurethane parts for industry. For over 30 years, we have combined speed and precision to manufacture the highest quality industrial cast polyurethane parts. Plan Tech has an outstanding team of dedicated employees with exceptional talents and industry-leading expertise. We are very proud of the "company we keep." Our customers include many Fortune 500 companies, most of whom have been customers for 20+ years. Their drive to become industry leaders has helped us do the same.
For more information, go to https://plantech.com/ or call (877) 349-0620
Press Contact: Kevin Healy khealy@plantech.com