Plan Tech, Inc. selected to produce thousands of urethane gripper strips for a bottling company.
LOUDON, NH., June 12, 2018 —Plan Tech, Inc. selected to produce thousands of urethane gripper strips for a bottling company. Large industrial canning machines use urethane gripper strips to rotate the can during different parts of the bottling process. These cans rotate down the assembly line where they are rinsed and dried before being filled. These urethane gripper strips keep production moving with less downtime due to worn out gripper strips. Reports from our customer say that the 24/7 automated bottling factory increased production per month by 30% with Plan Tech's high-performance urethane gripper strips.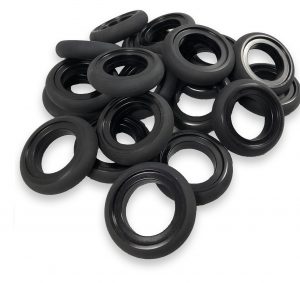 Urethane is easily molded into almost any shape, food safe and will outperform similar materials 3:1. Urethane also has a longer service life. These polyurethane gripper strips are chemically bonded to an aluminum backing that is drilled and tapped for a bolt on replacement of the OEM gripper strip. Originally our customer tried another urethane material from overseas with fair results. The material was of poor quality and fell apart quickly. Plan Tech uses only high-quality material from world leaders in polyurethane materials. Our urethane will compress and rapidly return to their original shapes for years to come. For these urethane gripper strips, we decided it would be best a molded piece to lower the cost of the finished product. Making molds yield parts to almost print with very little secondary process saving our customer money and lowering the lead time on repeat orders.
Urethane gripper strips are available in all durometers and sizes. A variety of additives can be added to enhance wear properties or abrasion resistance. A metal detectable additive can also be added for X-ray equipment required for FDA applications. We also cast FDA Dry food approved urethane gripper strips. Polyurethane gripper strips can be molded with any added thru hole for bolt-on applications or any other configurations as well. We can provide any hardness needed for your application or sealing needs. Custom urethane sizes are no problem for us here at Plan Tech. Plan Tech VP Operations, Melanie Patten said, "Plan Tech received a sample OEM part and within weeks we had high volume production orders, communication and great teamwork combined with a high-performance urethane has resulted in our customer being able to yield higher productivity and less downtime"
About Plan Tech
Plan Tech Inc, headquartered in Loudon, NH manufactures custom molded cast polyurethane parts for industry. For over 30 years, we have combined speed and precision to manufacture the highest quality industrial cast polyurethane parts. Plan Tech has an outstanding team of dedicated employees with exceptional talents and industry-leading expertise. We are very proud of the "company we keep." Our customers include many Fortune 500 companies, most of whom have been customers for 20+ years. Their drive to become industry leaders has helped us do the same.
For more information, go to https://plantech.com/ or call (877) 349-0620
Press Contact: Kevin Healy khealy@plantech.com
SOURCE Plan Tech Inc
Related Links https://plantech.com/