Plan Tech, Inc. selected to produce urethane bridge bearings
LOUDON, NH., September 18, 2019 — Plan Tech, Inc. selected to produce urethane bridge bearings for a major bridge engineering firm. All bridges move around when a heavy load crosses over or in high winds, these bearings allow the bridge to still move around while being supported by a solid urethane bearing. These parts are typically round but can be of any shape or size as each bridge will have unique weight and load limits.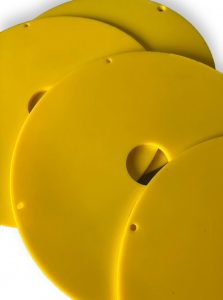 Urethane bridge bearings also have a high load-carrying capability, high dielectric strength and non-magnetic while offering vibration-damping \ shock protection. Each bridge bearing must perform the exact same throughout its service life, urethane is an ideal choice of material for high abuse applications in any environment. Each urethane bridge bearing will be molded using high-performance materials at Plan Tech. Urethane is easily molded into almost any shape, we decided it would be best making molds yield parts to almost print with very little secondary process saving our customer money and lowering the lead time on repeat sales.
Urethane bridge bearings are available in all durometers and sizes with physical properties available upon request. Bridge bearings can be molded with any added thru-hole for bolt-on applications or any other configurations as well. We can provide any hardness needed for your application or form stamping requirements. Plan Tech VP Engineering, Kevin Healy said, "We have a few different ways we could make these bearings, designing a mold to yield different sizes allows us to quickly change from one size to another. Other vendors required new molds for each size which was very expensive. We have since been selected to produce all the bearing sizes and have no problem keeping up with high volume demands."
About Plan Tech
Plan Tech Inc, headquartered in Loudon, NH manufactures custom molded cast polyurethane parts for industry. For over 30 years, we have combined speed and precision to manufacture the highest quality industrial cast polyurethane parts. Plan Tech has an outstanding team of dedicated employees with exceptional talents and industry-leading expertise. We are very proud of the "company we keep." Our customers include many Fortune 500 companies, most of whom have been customers for 20+ years. Their drive to become industry leaders has helped us do the same.
For more information, go to https://plantech.com/ or call (877) 349-0620
Press Contact: Kevin Healy khealy@plantech.com