Plan Tech, Inc. selected to produce urethane glass rollers
LOUDON, NH., November 25, 2019 —Plan Tech, Inc. selected to produce urethane glass rollers for the fabrication industry. These rollers are used in an assembly where glass is shaped and then robotically moved to another station. These rollers are designed to be remarkably soft and absorb all of the impacts from the glass being placed on the rollers, These custom-designed urethane glass rollers have a special tapered ID to deflect and absorb the impact giving the urethane more flexibility while still being able to move large pieces of shaped glass down the assembly line. These rollers are required a tight tolerance to be capable of repeating precise movements over a lifetime of the roller.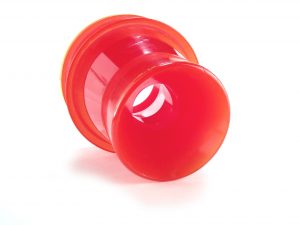 Traction and high-performance urethane material combine with Plan Tech's 30 years of experience CNC profile grinding urethane rollers make for longer-lasting rollers for our customers with less downtime resulting in an increased profit. The cost savings has resulted in casting thousands of urethane rollers for different robots of many different sizes and features. Plan Tech uses only high-quality material from world leaders in polyurethane material. Our urethane will compress and rapidly return to their original shape for years to come.
Urethane glass rollers are available in all durometers and sizes. A variety of additives can be added to enhance wear properties or abrasion resistance. We can provide any hardness needed for your application or requirements. Custom urethane sizes are no problem for us here at Plan Tech. Plan Tech VP Engineering, Kevin Healy said, "These custom urethane glass rollers were co-designed by Plan Tech and our customer continues our expansion in providing high-performance urethane rollers for the robotics industry."
About Plan Tech
Plan Tech Inc, headquartered in Loudon, NH manufactures custom molded cast polyurethane parts for industry. For over 30 years, we have combined speed and precision to manufacture the highest quality industrial cast polyurethane parts. Plan Tech has an outstanding team of dedicated employees with exceptional talents and industry-leading expertise. We are very proud of the "company we keep." Our customers include many Fortune 500 companies, most of whom have been customers for 20+ years. Their drive to become industry leaders has helped us do the same.
For more information, go to https://plantech.com/ or call (877) 349-0620
Press Contact: Kevin Healy khealy@plantech.com