Plan Tech selected to manufacture thousands of suspension bushings for a large hydraulic shock manufacturer
LOUDON, NH., October 13, 2017 — Plan Tech, Inc. selected to manufacture thousands of suspension bushings for a large hydraulic shock manufacturer. Urethane bushings or bump stops are essential in the assembly of struts and shocks. They need to be able to carry immense loads with no issue or noise and dampen the shock if a load greater than the struts ability to absorb the impact is applied.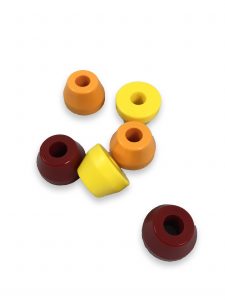 Urethane is ideal for this situation for every physical properties urethane has. It will outperform and outlast rubber 3:1 while having all the damping capability as rubber does. Urethane also has a low compression set and will return to its original size even after years of abuse in any environment applications even underwater. Open casting urethane suspension bushings produce thousands of high-quality parts with rapid turn around.
Plan Tech can cast urethane suspension bushings any hardness or color with just about any profile required. At Plan Tech we can reverse engineer existing bushings to match OEM specs. Adding a core for bolt applications is also no problem for us! Often times we can add additives that will increase abrasion resistance and add lubricity to keep products from sticking. An Anti-static additive is also common to reduce any static build up from sliding friction. Plan Tech Machine Shop Engineer, Marc Guild said, "Frequently we get approached by a customer with a quality or fitment issue, Plan Tech can make all of the molds required and produce parts with tight tolerances for real-world applications."
About Plan Tech
Plan Tech Inc, headquartered in Loudon, NH manufactures custom molded cast polyurethane parts for industry. For over 30 years, we have combined speed and precision to manufacture the highest quality industrial cast polyurethane parts. Plan Tech has an outstanding team of dedicated employees with exceptional talents and industry-leading expertise. We are very proud of the "company we keep." Our customers include many Fortune 500 companies, most of whom have been customers for 20+ years. Their drive to become industry leaders has helped us do the same.
SOURCE Plan Tech Inc