Plan Tech Selected To Restore Antique Farm Tractor Urethane Sprockets
LOUDON, NH., June 14, 2017 — Plan Tech was selected to provide antique farm tractor urethane sprockets. The urethane will isolate most of the track noise during operation as well as center the track on the sprocket to allow the tractor to turn. Being 50+ years old previous coatings had completely worn away to the original steel core provide a perfect opportunity to refurbish the original sprocket wheels. After completely cleaning the wheel cores Plan Tech made location marks on the core to be machined after the urethane process. Being a custom application a low-cost mold was made to over pour the wheel into a solid blank disk to be machined. A lot of considerations goes into choosing the right urethane material that will hold to the harsh conditions farm equipment is expected to withstand.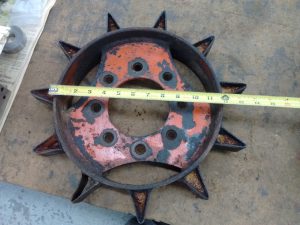 Plan Tech was chosen to restore these truly custom urethane sprockets due to our product knowledge and rapid prototyping capabilities. The performance of the new Plan Tech urethane sprockets on average have 40% greater tear strength vs injected urethane. By improving this it will reduce equipment downtime saving the end user thousands of dollars or possibly extensive work to locate a new set of sprockets.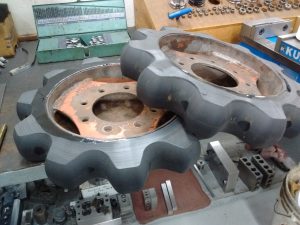 Plan Tech VP of Engineering Kevin Healy, said, "Being able to engineering one off parts to reproduce urethane sprockets for farm tractors like these demonstrates how far we have evolved our engineering, design and molded parts capabilities. From start to finish, Plan Tech stands to provide a clear value proposition to engineers and business owners by delivering efficiencies from the design stage right through to installation. Our new urethane sprocket customer repeatedly told us that the Plan Tech team brings more than just products to the job; they bring solutions and add value from the design phase through to finished part."
About Plan Tech
Plan Tech Inc, headquartered in Loudon, NH manufactures custom molded cast polyurethane parts for industry. For over 30 years, we have combined speed and precision to manufacture the highest quality industrial cast polyurethane parts. Plan Tech has an outstanding team of dedicated employees with exceptional talents and industry leading expertise. We are very proud of the "company we keep." Our customers include many Fortune 500 companies, most of whom have been customers for 20+ years. Their drive to become industry leaders has helped us do the same.
For more information, go to http://plantech.com/ or call (877) 349-0620
Press Contact: Kevin Healy – khealy@plantech.com
SOURCE Plan Tech Inc