Plan Tech selected to manufacture urethane pulleys for a Fortune 500 Industrial Company
LOUDON, NH., September 18, 2017 — Plan Tech, Inc. selected to manufacture urethane pulleys for an industrial elevator company. Steel Pulleys are essential in cable operated elevators for safety and to be able to carry immense loads with limited noise. Steel on Steel is extremely loud and will radiate any vibrator directly into the elevator making for an unpleasant ride up and down, especially loaded with a lot of weight. Rubber coated pulleys have been tested and proved to be a decent fix but require constant maintenance as the rubber will wear quickly.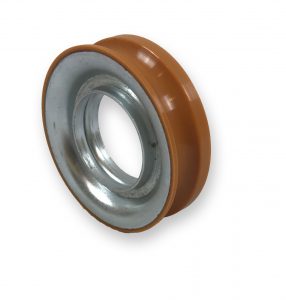 Plan Tech was selected because of our molding capabilities for complex jobs with short lead times. During testing, urethane pulleys proved to last 300% longer than rubber pulleys with reduced vibrations. Urethane proved to do extremely well in cold climates and not freeze to the pulley due to an additive called Armoglide which adds lubricity to the urethane pulley as it wears.
Plan Tech Customer Service, said, "It's amazing to watch how quickly quoting to prototyping to final production goes. These new urethane-coated pulleys are being installed in thousands of elevators around the world in no time at all. Switching to urethane saved the customer from replacing the pulleys regularly to just inspecting them. Not only is the customer saving thousands of dollars in repairs and upkeep their elevators are now more safe and reliable."
About Plan Tech
Plan Tech Inc, headquartered in Loudon, NH manufactures custom molded cast polyurethane parts for industry. For over 30 years, we have combined speed and precision to manufacture the highest quality industrial cast polyurethane parts. Plan Tech has an outstanding team of dedicated employees with exceptional talents and industry-leading expertise. We are very proud of the "company we keep." Our customers include many Fortune 500 companies, most of whom have been customers for 20+ years. Their drive to become industry leaders has helped us do the same.
SOURCE Plan Tech Inc