Plan Tech selected to produce thousands of urethane rings for an assembly manufacturer
LOUDON, NH., November 6, 2017 — Plan Tech, Inc. selected to produce thousands of urethane rings for an assembly manufacturer. These are critical rings that slip over special shafts that cannot be damaged during assembly. The urethane rings also provide alignment during assembly. Since these special rings needed to be molded to be cost-effective Plan Tech designed a compression mold capable of producing hundreds of urethane rings of tight tolerances with a rapid turn around.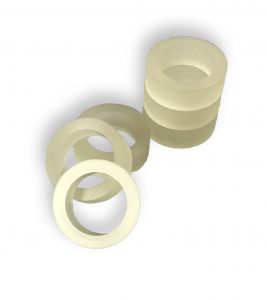 Originally our customer was using a rubber ring that was not oil resistance and would often times stick to the shafts due to chemical breakdown. Plan Techs high-quality urethane not only our performed the rubber but was a cost saving due to less time required to assemble each shaft with better lead times. Compression molding urethane rings produce thousands of high-quality parts with rapid turn around. Plan Tech can cast urethane rings of any hardness or color with just about any profile required. At Plan Tech we can reverse engineer existing bushings to match OEM specs. Adding a core for bolt applications is also no problem for us!
Frequently we can incorporate additives that will increase abrasion resistance and add lubricity to keep products from sticking. An Anti-static additive is also common to reduce any static build up from sliding friction. Plan Tech Production Manager, Cody Henry said, "From the beginning when Plan Tech was first approved with this unique problem we were able to confidently say that our urethane rings were chemical and oil resistant and outperformed the traditional rubber rings. Plan Tech reverse engineered the OEM ring and designed a mold in record time"
About Plan Tech
Plan Tech Inc, headquartered in Loudon, NH manufactures custom molded cast polyurethane parts for industry. For over 30 years, we have combined speed and precision to manufacture the highest quality industrial cast polyurethane parts. Plan Tech has an outstanding team of dedicated employees with exceptional talents and industry-leading expertise. We are very proud of the "company we keep." Our customers include many Fortune 500 companies, most of whom have been customers for 20+ years. Their drive to become industry leaders has helped us do the same.
SOURCE Plan Tech Inc