Plan Tech selected to produce urethane bumpers in high volume for a boat manufacturer
LOUDON, NH. August 7,  2017 — Plan Tech selected to produce urethane bumpers in high volume for a boat manufacturer. After material testing urethane was the best choice for this application per our customer's specification. Urethane boat bumpers will absorb an impact and return to its original size even after years of abuse. The boat manufacturer designs boats for shipping large containers which often times will be docked up against a retaining wall for loading.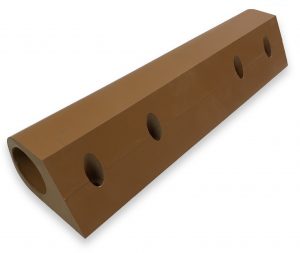 Due to urethanes great ability to withstand immense forces loaded onto the bumper, it will perform well for years to come. Being a custom application a low-cost mold was made to produce the urethane bumpers in high volume. A lot of considerations go into choosing the right urethane material that will hold to the harsh conditions such as salt water and winter months on the ocean.
Plan Tech was chosen to produce thousands of bumpers due to our product knowledge and rapid prototyping capabilities. The performance of the new Plan Tech during testing vs the OEM bumper was of superior quality. By improving this it will reduce equipment downtime saving the end user thousands of dollars or possibly extensive work to locate a new set bumpers overseas.
Plan Tech VP of Engineering Kevin Healy, said, "Our customer came to us with an idea for an updated bolt on application that would be readily available at low cost. After going back and forth on the best design for both of us, we now produce a bumper with no machine shop work with very minor trimming of the final part. Plan Tech can now rapidly strip the bumper from the mold and ship vertically the same day. After prototype parts were made our customer who has hundreds of ships requiring updating are now all being fitted with Plan Tech's custom Urethane Bumpers. Being able to work directly with the end user allows us to make a truly one off custom part that will be used for and seen all over the world. They are so impressed with the appearance of the bumpers on the boats they now have incorporated their company logo into each bumper."
About Plan Tech
Plan Tech Inc, headquartered in Loudon, NH manufactures custom molded cast polyurethane parts for industry. For over 30 years, we have combined speed and precision to manufacture the highest quality industrial cast polyurethane parts. Plan Tech has an outstanding team of dedicated employees with exceptional talents and industry leading expertise. We are very proud of the "company we keep." Our customers include many Fortune 500 companies, most of whom have been customers for 20+ years. Their drive to become industry leaders has helped us do the same.
For more information, go to http://plantech.com/ or call (877) 349-0620
Press Contact: Kevin Healy – khealy@plantech.com
SOURCE Plan Tech Inc