Urethane Encoder Rollers – Polyurethane Encoder Rollers
Urethane encoder rollers have become more common as more equipment is turning to automatic systems. An encoder roller must be precision made as a sensor will need to know exactly how far to rotate the roller for the next step in the automated process. Rotating the encoder roller with precision is exactly what makes automatic equipment better than operation the machine manually. Urethane encoder rollers recently solved a problem for a company retrofitting a bag feeding machine. Two urethane encoder rollers will pitch the bag material and feed it into the machine for a precision cut every time.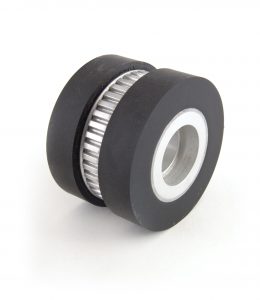 Urethane is a great choice when searching for a nonmarking material much tougher than plastic or UHMW with significantly better physical properties than rubber. A large variety of industrial parts are made out of urethane such as; urethane gears, urethane dunnage parts, urethane gaskets and urethane tubes. Urethane encoder rollers can also be tailored for use in FDA dry applications! Any custom profile may be achieved either as a secondary or sometimes may be molded whole. At Plan Tech we can also reverse engineer existing urethane encoder rollers to match OEM originals often times for less. Some customers have changed the hardness of the polyurethane encoder roller for a special application like feeding a bag using the rollers in a pitch feed cut off machine. Urethane encoder rollers will also help absorb an impact while reducing the vibration of the load and machine to help protect sensitive electronic measuring equipment. Custom steel cores may be added to strengthen the encoder roller while some may be entire cast from urethane. Another core part of our manufacturing and service is tight tolerance urethane roller recovering for our customers.
Tight tolerances and rollers up to 4 feet are no problem for Plan Tech! For over 30 years we have focused on using speed and precision to rapidly deliver the highest quality industrial cast urethane products and FDA approved urethane parts to our customers. Our custom cast polyurethane facility maintains world-class capabilities and equipment, combined with excellent quality systems. A particular strength is the breadth of our in-house capabilities which, when combined with our extensive urethane experience, enables us to rapidly deliver cast urethane parts while maintaining the quality control and cost effectiveness our customers need.
Please Contact us for further details regarding Urethane Encoder Rollers!