Urethane Wheels – Custom Urethane Wheels
Urethane Wheels ? You've come to the right source!
Urethane wheels are one of the specialty products that Plan Tech has been manufacturing for more than 3 decades! Whether your requirements are for urethane robot wheels for robots, v-groove wheels for conveyors, flanged urethane wheels acting as a guide running on tracks or heavy-duty urethane wheels for industrial machinery, we have the complete lineup of precision molded urethane wheels in the United States some of which include:
Tight Tolerance Urethane Wheels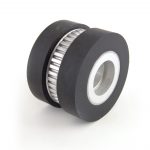 Urethane robot wheels: Urethane robot wheels are custom designed by robotics engineers with tight tolerances that will operate well in extreme environments. Cast from high-quality resin for extreme vibration damping so that video images provided by the robot are clean. Urethane robot wheels will hold up well against water, heat, chemicals, solvents and are custom made with superior physical properties vs similar material such as plastic or rubber wheels.
Urethane Gauge Wheels: Urethane gauge wheels are commonly found in agriculture equipment that is typically supplied on a heavy duty rim and is coated with a tear-resistant urethane material suitable for outdoor conditions. The urethane gauge wheels used in the agriculture industry will ride on the earth's surface to provide depth control.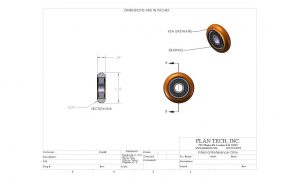 Heavy Duty Urethane Wheels: Heavy duty urethane wheels are perfect replacements for your custom urethane wheel or roller needs. All replacement heavy duty urethane wheels will provide maximum performance in your application and will meet or exceed OEM specifications.
Custom Urethane Wheels
Flanged Urethane Wheels: Flanged urethane wheels take the shock and vibration out of the load being placed onto the wheel. Traditional steel flanged wheels will transfer the shock and vibration to the equipment and operator that may shorten the service life of the wheel and is also hard on the equipment.
Urethane Guide Wheels: Urethane guide wheels are most popular in a 95A hardness with many different additives available for any applications. Our most common additive is called armorglide which will add lubricity and increased abrasion resistance to the urethane guide wheels. Plan Tech has also seen an increase in robotic urethane guide wheels with an anti-static additive to allow our polyurethane guide wheels to be conductive.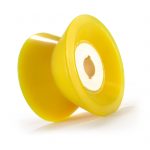 Urethane Bearing Wheels: Urethane bearing wheels are extremely common in shipping centers, conveyor systems, and assembly lines. At Plan Tech for the last 30 years, we have specialized in coating custom urethane bearing wheels both low and high volumes.
Polyurethane Wheels: Polyurethane wheels with bearings are made from a TDI based high-quality ether-based urethane and typically supplied in a 95A durometer. Consisting of a bearing that is media blasted before it is chemically bonded our polyurethane wheels will last for years and are most commonly found in shipping centers.
Urethane Bandsaw Drive Wheels: Urethane recoating bandsaw drive wheels are one of the custom specialty services we provide our industrial clients. Urethane is used in the woodworking industry, large band saws sometimes the size of a small building are used to process wood.
Industrial Polyurethane Wheels: Industrial Polyurethane Wheels are tops in abrasion and wear resistance. With a full line of post-secondary operations, we can finish and assemble your industrial polyurethane wheels to meet your most stringent specifications. In fact, they often times wear better than OEM replacements at a fraction of the cost.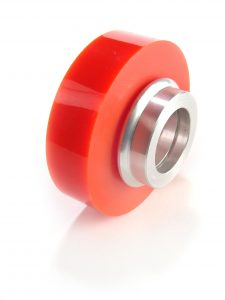 V-Groove Urethane Wheels: V-Groove Wheels can be manufactured from various materials for your application and may be machined to almost any shape to match rolling surfaces. For example on tracks, angle-iron, and any other riding surface. We can duplicate your existing v-groove urethane wheels or we can reinvent the wheel for your custom v-groove urethane wheels specification.
Urethane Drive Wheels: Urethane drive wheels are very popular due to the ability to tailor urethane to any hardness required for the application. Urethane drive wheels will have a key slot or bolt to a hub that will drive the wheel.
Urethane Caster Wheels: Urethane caster wheels are made of the highest quality urethane that will carry higher capacities than rubber. Standard urethane caster wheels have a hardness of 95A durometer. The urethane is chemically bonded to an aluminum or steel core with bearings to rotate smoothly.
AGV Urethane Wheels: AGV urethane wheels also know as AGV stacker wheels are custom cast from high-quality material for any harsh environment or continuous operation. AGV urethane wheels can be up to 12" in diameters and are available in any hardness or color.
Urethane Idler Wheels: One of the reasons our urethane idler wheels wear like steel is because of Plan Tech's top quality urethane suppliers. Urethane Idler wheels are liquid cast and chemically bonded onto heavy-duty iron wheel centers.
Urethane Flume Wheels: Urethane flume wheels are featured on many roller coasters around the world that are supplied from Plan Tech. We utilize high-performance polyurethane material from world leading chemical companies. Most urethane flume wheels consist of an aluminum core that is machined in our state of the art machine shop.
Custom Urethane Wheels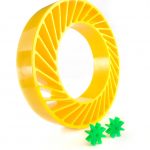 Our engineering team has decades of urethane industry experience and can help determine the best urethane solution to fit your application requirements. We offer UV stabilized colors and a variety of durometer choices. Plan Tech can supply complete with inserts or hub assemblies as needed.
Urethane wheels exhibit excellent tolerances for consistent wear, often at considerable RPM's and weights. Based on wheel samples or specifications, we can work with you to determine the best product type and sizes. We perform tests according to an established set of standards provided by an accredited testing organization such as the Society for Testing and Materials (ASTM) who define the procedures in detail. Plan Tech's custom wheels are an excellent way to provide a layer of durable, long lasting shock-absorbing cushion between your product and the rolling surface. Our wheels are available in almost any color or durometer desired for your application. They provide high impact shock absorption, noise reduction and are considered the best urethane covered wheels in the industry!
Urethane Wheels
Please Contact us for further details regarding your specialty polyurethane wheels!