Urethane Idler Wheels – Custom Urethane Idler Wheels
Urethane Idler Wheels
Urethane idler wheels are tops in abrasion resistance, wear and bond strength. With a full line of post-secondary operations, we can finish and assemble your idler wheels and rollers to meet your most stringent specifications. Urethane idler wheels can come with either a bonded bearing or a pressed bearing commonly know as a urethane idler wheels. We frequently will reverse engineer and can duplicate your existing urethane idler wheels.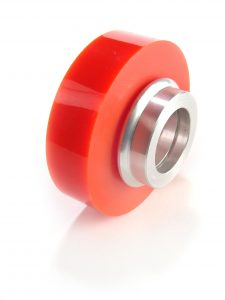 Durometer and color are no problem for our custom urethane idler wheels. Polyurethane idler wheels can come with a variety of options to bolt on, most common is a straight bore with a keyway. We also can do dual durometer urethane idler wheels for any application. Common sizes. Diameters from ½" to 6″. Face widths from ½" to 6″. All durometers, all colors. Castings stampings, weldments or fabricated cores are no problem for us!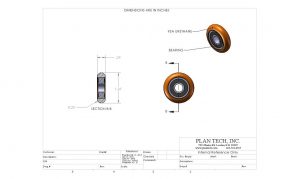 One of the reasons our urethane idler wheels wear like steel is because of Plan Tech's top quality urethane suppliers. Urethane Idler wheels can are liquid cast and chemically bonded onto heavy-duty iron wheel centers. The treads are chemically inert and non-sparking / non-conductive. The custom urethane wheels are impervious to oil, ozone, grease and most solvents, and will not mark floors. We have a full line of polyurethane additives to aid in the performance criteria specified. We guarantee our wheels against tread separation for one year in ordinary uses. They are available without bearings, with straight roller bearings, or with precision tapered bearings.
Urethane Idler Wheels
Our engineering department can turn your idea, sketch, drawing or CAD file into custom urethane parts. We will reverse engineer to recreate any urethane part for production or one-off urethane pieces. The engineering department uses SolidWorks and our machine shop uses CamWorks for 3 axis milling. Our equipment includes CNC mills, lathes, polyurethane grinders as well as a state of the art urethane waterjet cutting machine. Secondary equipment includes sheet metal, welding, grinding, automated cutoff, broaching and more. We offer complete manufacturing capability for the inserts or cores required for your parts and provide one-stop shopping for all of your custom cast polyurethane products. Whether you are a start-up company or global leader, we can add value to your products with our strong engineering support, urethane polymer experience and constant focus on meeting all delivery requirements. Our rapid prototyping capabilities have also received particularly positive feedback – we frequently go from "Print to Part" in 10-15 business days!
Please Contact us for further details regarding your application!