Refurbished urethane rollers are reconditioned at Plan Tech with high-quality urethane material from world leading polyurethane manufacturers. Custom casting allows Plan Tech to have refurbished urethane rollers almost any size with rapid lead times.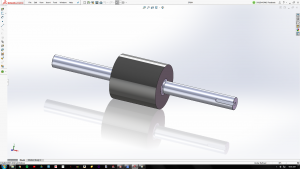 Worn out rollers will be inspected before being processed at our in-house machine shop. Any previously covered urethane will be stripped on a lathe before a coat of bonding adhesive is applied directly to each roller core. Plan Tech has a state of the art clean room filled with positive air pressure to ensure no contaminants pollute our bonding process. Each core will be de-greased and media blasted.
During production each size of refurbished urethane rollers are tested different, Long rollers are cast in a laydown mold with end caps that will center the covered urethane roller in the mold for production while smaller rollers will be cast in what we like to call our family mold system. Each batch of urethane material is mixed in our batch department per custom application, this allows Plan Tech to be able to offer a variety of different additives to tailor our urethane material for any special applications requiring special physical properties of the urethanes performance. Our most common additives are antistatic refurbished urethane rollers or to add lubricity to the material as it wears. Plan Tech can match OEM rollers or existing refurbished urethane rollers with custom profiles for any application.
For over 30 years we have focused on using speed and precision to manufacture the highest quality industrial cast urethane parts to our customers. A particular strength is the breadth of our in-house capabilities such as grinding urethane parts which, when combined with our extensive experience, enables us to deliver tight tolerance custom urethane parts while maintaining the quality control and cost effectiveness our customers require. The tests are performed according to an established set of standards provided by an accredited testing organization such as the Society for Testing and Materials (ASTM) who define the procedures in detail.
Please Contact us for further details about refurbished urethane rollers!