Seat impact urethane bumpers designed and manufactured at Plan Tech are renowned for their quality. Having over 30 years of experience in the production of seat impact rubber bumpers and other urethane related products, our team of technicians is made up of innovative and dedicated professionals whose motivation is based on high positive customer service and quality delivery.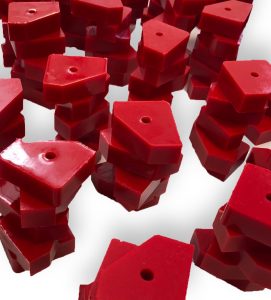 You can trust the finished product of our seat impact bumpers to hold extremely tight tolerances. More so, the seat impact rubber bumpers we produce are high in mechanical strength and can withstand a high impact (impact resistance). The ability of our seat impact urethane bumpers to effectively resist impact as well as absorb noise and exhibit a high level of flexibility is second to none. Little wonder our esteemed customers speak highly of the quality of our products with many attesting to the fact that no other brand in the industry manufactures seat impact bumpers and other urethane products that are better than ours regarding quality and efficiency.
Plan Tech is committed to manufacturing seat impact poly bumpers from superior high-quality materials. We ensure that our seat impact rubber bumpers are made to last even after many years of usage. Plan Tech strives to use the latest in design software technology for the designing of complex urethane molds. We utilize SolidWorks to design all of our open face and compression molds per customer specifications. When we have completed our design that has been approved by the customer we machine them using CAMWorks at our in-house machine shop. This creates a faster "concept to production" environment to produce superior parts for our customers. Below is a list of the software used for designing urethane molds:
GrabCAD: GrabCAD is a startup that has created a free cloud-based collaboration solution that helps engineering teams manage, view and share Cad files. GrabCAD is used by companies big and small to support the design of physical products of all sorts – from basic screws to jet engine brackets at GE, to robotics that zap germs.
Are you interested in cast Seat Impact Bumpers? Please Contact us so we can help solve your requirements and work with you on your specific application!