Shock absorbing urethane bumpers are designed to absorb shock and as such prevent impact damage to equipment or surfaces. At Plan Tech we create shock absorbing urethane bumpers for all types of industrial uses regardless of the environment and its extremities. Plan Tech's shock absorbing polyurethane bumpers are customized according to your specific need for hardness, chemical and abrasion resistance, temperature and any environmental extremes encountered.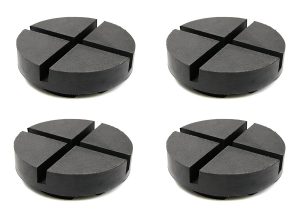 Our shock absorbing urethane bumpers are known to be superior to plastic, rubber and metal bumpers; this is because of the incredible durability and noise abatement properties of our urethane formulation. Bumpers made of our urethane formula have extensive wear abilities; they resist abrasion/corrosion and can operate with minimal noise levels.
Plan Tech's shock absorbing rubber bumpers can be machined, molded and cast to your desired specification. These bumpers can be made sponge-soft or iron hard to suit your application. They also have excellent tear strength, elasticity and are excellent resistance to heat, chemicals, and solvents. We can also create custom designs and even bond it to other components like metal.
Today, product engineers prefer and recommend our shock absorbing rubber bumpers knowing they the best are made in-house with speed, accuracy, and precision. Plan Tech strives to use the latest in design software technology for the designing of complex urethane molds. We utilize SolidWorks to design all of our open face and compression molds per customer specifications. When we have completed our design that has been approved by the customer we machine them using CAMWorks at our in-house machine shop. This creates a faster "concept to production" environment to produce superior parts for our customers. Below is a list of the software used for designing urethane molds:
PTC Creo:  PTC Creo formerly known as Pro/ENGINEER, is a 3D CAD/CAM/CAE feature-based, associative solid modeling software. PTC Creo is one of a suite of 10 collaborative applications that provide solid modeling, assembly modeling, 2D orthographic views, finite element analysis, direct and parametric modeling, sub-divisional and NURBS surfacing, and NC and tooling functionality for mechanical designers.
Are you interested in cast Shock Absorbing Urethane Bumpers? Please Contact us so we can help solve your requirements and work with you on your specific application!