Skateboard polyurethane wheels produced at Plan Tech using compression molding capable yields high-performance skateboard wheels of any profile or size. Plan Tech is able to custom mold polyurethane skateboard wheels at a rapid pace with 30+ years molding polyurethane products experience.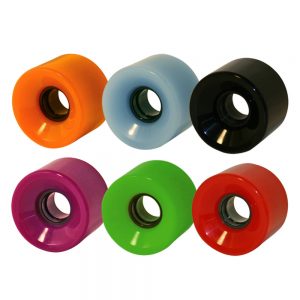 Plan Tech uses only high-performance material and curatives from world chemical leaders with rapid tool design and mold making in-house. Our high-performance urethane material is rated for high load applications where OEM and similar material will not hold up. Our open cast TDI material is extremely tough for any application and is used in various skateboard polyurethane wheels applications.
Skateboard polyurethane wheels have the great ability to absorb noise and vibration while providing a long service life. After the urethane is cast we have an in-house state of the art machine shop that will perform any secondary process to machine the Skateboard polyurethane wheels tread to OEM specs or any custom profile. Each and every skateboard wheel is open for any design changes including color, profile, diameter, and bearing size. During the final inspection, we will record all dimensions to ensure each and every roller skate wheel meets a tight tolerance and provide any needed inspection report with each shipment. Each year Plan Tech has produced hundreds of thousands of skateboard polyurethane wheels and understands today's competitive market.
Plan Tech has an outstanding team of dedicated employees with exceptional talents designing and manufacturing skateboard polyurethane wheels. We also are very proud of the "company we keep." Our customers include many Fortune 500 companies, most of whom have been customers for 20+ years. Their drive to become industry leaders has helped us do the same. Whether you are a start-up company or global leader, we can add value to your products with our strong engineering support, urethane polymer experience and constant focus on meeting all delivery requirements. Our rapid prototyping capabilities have also received particularly positive feedback – we frequently go from "Print to Part" in 10-15 business days – Everything we manufacture is MADE IN THE USA!
Please Contact us for further details or to answer your questions about skateboard polyurethane wheels!