Skew urethane wheels are designed to rotate and transfer pipe along the length of a conveyor system and other machinery that requires it. The presence of the urethane in the skew wheels enables the conveyor system to rotate effectively and perform uniform external operations. More so skew urethane wheels can withstand a harsh environment including high heat applications, making it the #1 choice in the industry.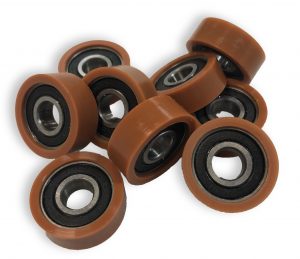 Skew urethane wheels come in different sizes, shapes, and colors. They are usually made to withstand high pressure and are manufactured to absorb noise and vibration while providing a long service life. At Plan Tech, our team of engineers are equipped with application techniques and state of the art facility that has earned Plan Tech the respect and admiration of its customers and competitors around the world. Manufacturing skew urethane wheels require expertise and vast knowledge in the production of the urethane wheel which is why our team are dedicated to constant research and development of quality preparation method before and during the production process. Each year Plan Tech produces thousands of skew wheels that meet our customer's specifications.
Are you in need of skew urethane wheels that are durable, can tolerate heavy load with high bearing capacity? Plan Tech specializes in making custom skew urethane wheels, and if you are in need of custom-made urethane machinery, we provide world-class standard equipment. Polyurethane is so important that it has constituted a significant part of our day to day life. Look around, and you will notice that "they" are applied in so many ways in almost all the available industries or fields from footwear, furniture, agricultural sectors to refrigerators, construction and automotive industries. This high-performance material come in different levels of hardness and textures like flexible & soft as rubber, as well as rigid & hard like plastic. The following are a few examples of products that use polyurethanes in their production.
Are you interested in cast Skew Urethane Wheels? Please Contact us so we can help solve your requirements!