Small polyurethane bushings are a better choice than their rubber or plain steel counterparts. These urethane products, like many other urethane parts, require a high level of exactness, we are aware of that, and that's why we apply speed and precision in manufacturing our small polyurethane bushings. And as such, we produce only world-class quality bushings used by many Fortune 500 companies.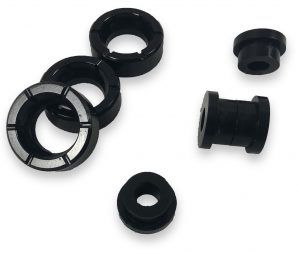 Our experienced technicians, engineers and production team make it possible for us to meet fast turnaround times but not at the expense of quality. We have an in-house machine that is fully equipped with state of the art facilities which allow us to produce small polyurethane bushings that rank among the best the industry has to offer. In addition to our machine shop, we also boast a team of engineers who have exceptional expertise in manufacturing only urethane products that are the best in class.
It is, therefore, no surprise that our urethane drive rolls have superior physical properties than those produced by most other brands. We are capable of overcasting our small polyurethane bushings and then grinding them down to the perfect sizing to enhance their tolerance level for more demanding applications. No matter the specification or what the requirements of your applications are, you can count on us to transform your idea or sketch into a best in class urethane part or component. Plan Tech a leader in cast urethane manufacturing, process's urethane additives from the world's leading chemical companies. Whether its enhanced lubricity for high abrasion resistance applications or for anti-static wheels for shoppers who don't want to be zapped touching a metal cart. Having more than 30 years experience in the polyurethane industry provides Plan Tech the specific knowledge of incorporating polyurethane additives:
Flame Retardant Urethane Additives: PAG is a well-established manufacturer and global supplier of flame retardants and smoke suppressants for polyurethane applications warehousing material throughout the United States, PAG is able to respond to customers in a timely fashion and provide cost savings. PAG Holdings is committed to providing the highest quality products with unsurpassed service.
Are you interested in Small Polyurethane Bushings? Please Contact us so we can help solve your requirements and work with you on your specific application!