Small urethane rollers are produced at Plan Tech with the use of what we call our family mold set up. Tooling for small urethane rollers is already manufactured which allows us to mold rollers with little to no startup cost in high volumes. Most small urethane rollers are bonded to a bearing or bushing while some might be fixed to a steel core.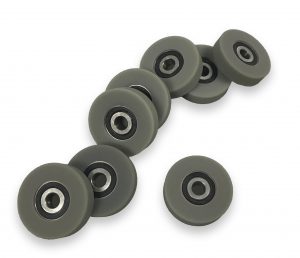 Small urethane roller cores may be purchased or produced at our in-house machine shop before entering our clean room after inspection. During the metal preparation, we feel this is the most important step in providing a high-quality roller with much higher physical properties vs OEM rollers with the ability to modify hardness or color. After the cores or bearings are completely degreased we will media blast each core in a custom build media blaster designed to process high volume small urethane rollers of any size.
Short runs of small urethane rollers with tight tolerances are available. Plan Tech produces millions of small urethane rollers each year for thousands of different applications of all different hardness and physical properties. Special additives are stocked for our urethane material to modify just how the roller will perform. Additives like Armorglide will add lubricity to the wheel while anti-static additives will allow static electricity to dissipate which allow the roller not to stick to lighter materials and static shock.
Whether you are a start-up company or global leader, we can add value to your products with our strong engineering support, urethane polymer experience and constant focus on meeting all delivery requirements. Our rapid prototyping capabilities have also received particularly positive feedback – we frequently go from "Print to Part" in 10-15 business days! Everything we manufacture is MADE IN THE USA! Our customers include many Fortune 500 companies, most of whom have been customers for 20+ years. Their drive to become industry leaders has helped us do the same.
Please Contact us for further details about our small urethane rollers!